Traditional Italian food, not the pizzerias and delis we all know, but the authentic cuisine, is a centuries old custom that relies on quality ingredients and recipes passed down through generations. In Italy, these meals are created by the "nonna", an Italian grandmother, and the matriarch of the family.
The National Restaurant Association found that 61% of Americans eat this food at least once a month, and revealed it to be the most popular ethnic cuisine in the U.S. But while delis, pizzerias and 'gelatarias' go some way to satisfying this appetite, it doesn't come close to Nonna's cooking.
That's what entrepreneur Guido Pedrelli, believes. Pedrelli is passionate about spreading the real message of Italian food. He founded Nonna Box, a gourmet Italian food service that delivers hard-to-come-by ingredients from Italy with regional information, recipes and stories from authentic Italian grandmothers, or nonnas.
How is Italian food consumed today, and what does Nonna Box provide that breaks this trend?
Italian cuisine is probably one of the most common food products that you can find in a grocery store in the U.S. Though not all of them are real Italian, most of them are made in the U.S. or white labeled for a grocery chain. It is actually very hard to find authentic, quality Italian products, made in Italy and from producers that still make them the traditional Italian way.
Italian food is often connected to pasta and pizza, but in reality is much more than that. Italy has an extensive history and influences from so many other cultures that it's impossible to not see them in its regional food variety. Nonna Box connects people with traditional and genuine Italian products, providing quality Italian delicacies that are enhanced with the stories and recipes of a local nonna.
So, how does Nonna Box work?
Nonna Box is a monthly subscription that allows individuals and families to enjoy Italian products and recipes delivered straight to their door. Each month, Nonna Box features a different Italian region and six of its traditional, imported and hard-to-come-by products from producers of that region.
In showcasing each part of Italy, Nonna Box brings foodies closer to the country via its flavors, history, and the monthly story of a regionally local Italian nonna and three of her favorite traditional recipes. What's more, each recipe comes with regional wine pairings from an Italian sommelier, for a true gastronomical experience.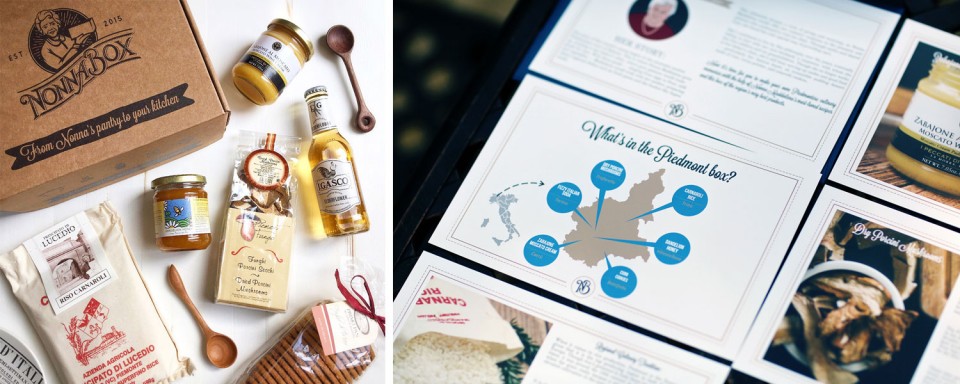 What experiences led you to launch Nonna Box?
I have always loved food. My grandpa and grandma ran a two generation family owned trattoria – a traditional Italian restaurant – in San Carlo di Cesena, in the region of Emilia-Romagna. This restaurant was, in fact, frequented by Giosuè Carducci, the Italian winner of the Nobel Prize for Literature. On Sundays, my entire family; parents, siblings, uncles, aunts and cousins would spend the day at my grandma's and she would cook for us all. I remember watching mesmerized as she would whip up delicious meals; tagliatelle, ragu alla bolognese and more. A big part of this process was the love and affection that she put into the food.
Since moving to the U.S. in 2013, I have tried to recreate these dishes and experience that same feeling. I realized the importance of quality ingredients at the core of this cuisine. And I remembered my nonna telling me how she had always relied on local products. She knew every single producer personally, as they were her neighbors, and quality was never a concern.
With Nonna Box I hope that people will enjoy the box in a family situation, cooking the recipes of local nonnas with high quality Italian products, and at the same time learn about authentic Italian traditions and culture.
Who are your customers today?
Nonna Box customers are Italians and Italophiles that have interests in authentic Italian food and Italian culture. These customers want to know what products to buy and with Nonna Box they are guaranteed all the quality ingredients, straight from our nonnas.
What trend excites you in this industry, and what opportunity does this provide for Nonna Box?
People in the U.S. love Italian food, but the produce you can buy in grocery stores in not the real thing. Recently, the Italian government invested $50M euros in the promotion of authentic Italian products for the U.S. market. They created the "Extraordinary Italian Taste" campaign, with events from the Speciality Food Association in New York City this January. Companies were invited to present their products, bringing the tastes of Italy to U.S. customers.
The Nonna Box subscription means people can experience these great flavors every single month. Not only do they receive three recipes with all the ingredients that need, we also share the stories behind these dishes, giving people a true Italian cultural experience.
How do you plan to grow Nonna Box, what are your plans for the future?
The plan is to continue growing the list of curated boxes, adding more regions to our portfolio as well as experiencing with other type of curation. In the future, the idea is to build a marketplace where customers can purchase the individual products that are included in the monthly boxes. As we build an appetite for authentic Italian cuisine, this means people can start to explore and create their own dishes.