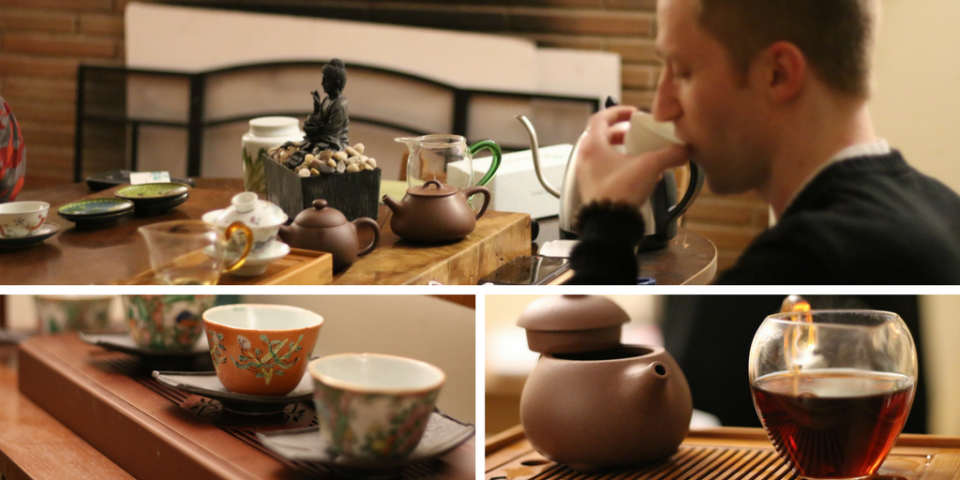 Author: Jeffrey McIntosh, CEO, Teabook
You've probably heard one of these sayings from one of the hundreds of young, successful CEOs, "get rich in six months," or "make millions doing what you love on a beach vacation." Now any entrepreneur knows that there's no magic formula, no new-age craze that will instantly transform your revenue from zero to a million overnight.
But there are two things I can guarantee that will make success more certain: reading and meditation.
Reading is knowledge, and knowledge is power. I highly recommend adding meditation into your routine, if you can mediate one hour everyday, you'll notice your personal and work life improve tangibly.
I'm fortunate to have found my calling in tea. It saved my life. The meditative feeling you get from preparing and drinking high quality loose leaf tea led me to practice Namo Amitabul Meditation, one of the most effect forms of Buddhist meditation. I began to meditate daily, and suddenly my ability to concentrate and focus skyrocketed. Soon after my patience, understanding, and tolerance increased. I was much more able to find a sense of calm, even during stressful business encounters. I was able to do my absolute best in all aspects of business, from day-to-day management, to meeting with potential partners and advisors. I know first-hand that meditation can build the strong mental foundation you will need at any stage of entrepreneurship.
As a serial entrepreneur myself, I can tell you that I still have not seen the worst, and I've been through an unbelievable amount of anxiety and depression. On the sixth month into my now two-year old company, I was laying under my desk in my office for days completely panicked.
You can never predict exactly what's going to happen next with your company in the very beginning. Checks bounce, orders get lost, your distribution center misplaces items, financials are up and down.
The reality is that there's no amount of lectures or seminars that can prepare you for the mental strain you will feel as an entrepreneur. It's an emotional roller coaster, and that's the tuition you pay for success, but it can also lead to an unhealthy lifestyle if you're not ready.
Meditation is the training you will need, so when the worst of the worst happens, you can still settle yourself and not overreact or make mistakes. It will allow to you think clearly and carefully about every decision no matter what the situation.
Meditation is free. All you need is a soft blanket or cushion to sit down on, so you have no excuse not to begin. I've been through some recent struggles with financing and investment, and I've been extremely frazzled. It's in those moments that I need meditation more than ever. I stopped everything, went into my room and sat down, took a deep breath, and meditated. After an hour I came out to see that everything was still there, but my outlook was radically different. The problem and solution jumped out at me almost immediately. Even in the most difficult of times, it's not as bad as we think. The biggest danger is in our impulsive reactions, not in the problem itself.
Another huge way you can add some pause to your work routine is to try quality loose leaf tea. It will add the perfect excuse to take just a few minutes out of you and your employees' hectic work lives and bring everyone a moment of mindfulness. Try to get out of the habit of resorting to the immediate convenience of a teabag. It's a much higher-level experience than tea bags, whether you brew it traditionally or in a tumbler or teapot. Make it experiential.
Set aside a 10 minute break before a big meeting or into your daily schedule. Gather your team and teach them to sit in calm silence and focus on your breath. If the team is more jumpy and energetic, maybe do a few minutes of stretches before meditation, or even better, simply serve loose leaf tea. Tea and meditation go well together.
You'll notice this break will give your team a moment to completely rest and re-energize. Turn a small room or conference room you're not using into a mediation room, with dim limited lights, a few cushion and a nice rug with a few salt lamps to make for a pleasant atmosphere, with some natural music or small water feature. When people are working overtime, they will have somewhere to go for 10 minutes, to get away from it all and come back ready to jump back into work.
Mediation Techniques:
Sit down cross legged and comfortably in a dimly lit room. Place your palms on top of each other, right below your belly.
Open your eyes one third of the way and look one about one foot in front of you.
Focus on the in and out of your breath and allow your mind to clear, (I focus on "Namo Amitabul," or "golden light," but focus on what's comfortable for you).
Try to start with ten minutes per day, then push for as long as 30 minutes to an hour.
You will notice you can focus better and think clearer afterwards.
Tips for Success (I read every day)
● When you mind is calm and settled, you'll be successful
● Anxious, quick, unsettled, is how you make mistakes
● Your surrounding areas always need to be clean, for a clear mind
● Be thankful for everything in life everyday
● Think deeply before making any decision
● Rethink everything 10 times before expressing
● The longer you wait the better the result
● Speak clearly, slowly, quietly and with confidence
● Success is reached collectively, not as an individual
● There is a way out of every situation
● Do not lie, do not judge.
About the Author:
Jeffrey McIntosh, CEO, Teabook.co
A tea industry specialist with eight years of experience in the international tea industry, Jeffrey McIntosh has served with the world's leading Tea Masters, is fluent in Mandarin Chinese, and knowledgeable about all aspects of the Chinese tea market. Jeffrey launched, McIntosh Tea, a high-end tea retail company, and Teabook.co, an ecommerce platform committed to making quality tea available across the marketplace. www.teabook.co.