We all love an animated GIF. Even after 28 years, they continue to intrigue and entertain us. Recently, these "digital flip books" have made a big splash on social media. Tumblr, a social media and microblogging platform, recently launched Tumblr TV and GIF search. Just last month, Twitter also announced that it would start auto-playing GIFs in feeds. This is all the more proof that we should all consider incorporating GIFs into our email campaigns.
Here's an awesome example of an animated GIF used in its full glory. American Apparel captures readers attention by using a simple GIF within the context of their messaging.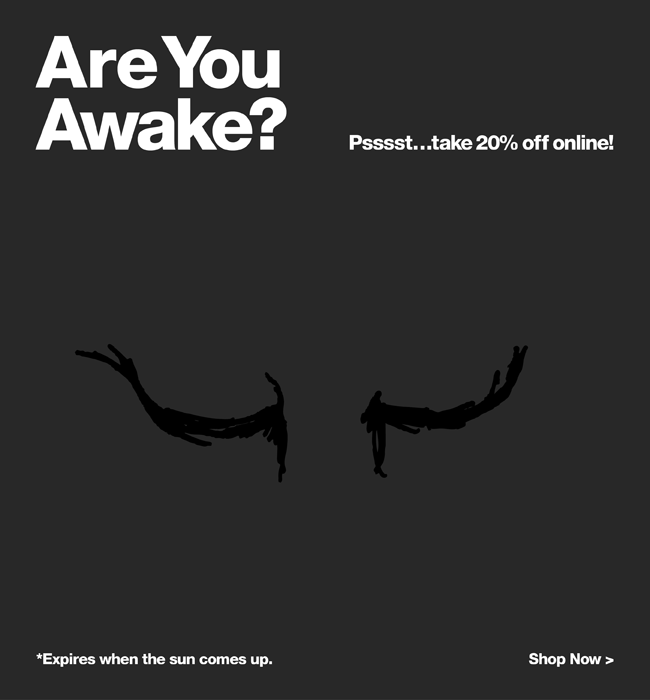 3 steps to GIF creation
Before you start embedding GIFs into your next email, here are a few tips you should keep in mind:
1) You should be aware that GIFs can increase the size of your email quite significantly, so be sure they don't push your total email size over the 104KB threshold. At this threshold, some clients like Gmail, start rolling up "excess content" into a preview link. In addition, larger GIFs can also take longer to load resulting in a bad user experience and can be flagged as SPAM.
2) Ironically enough, for how long GIFs have been around, there are some email clients that don't render animated GIFs. Newer versions of Outlook (2007, 2010 and 2013) won't play the animation. This list also includes Windows 7 for mobile. However, don't let this deter you from using GIFs. Even if your email is viewed on a client that isn't compatible, it defaults to showing just the first frame. Here's your chance to make sure that the user at least has an attractive default image to look at. Here's a great example of this done by Jack Spade: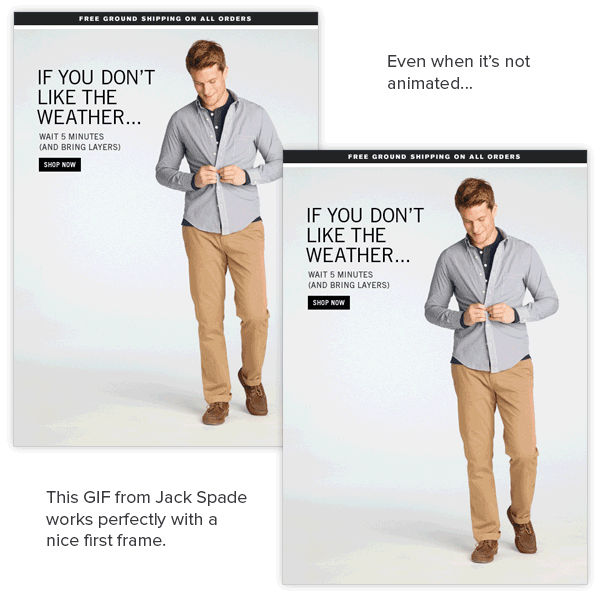 3) Last thing to bear in mind, is to not overuse GIFs. As with most other email content, regularly switch things up so that you continue to surprise and delight the reader. Overuse of a GIF can lead to loss of value and boredom. So make sure the next time you think about bringing out the GIF-big-guns, spend a good amount of time brainstorming and designing original content.
Ready to create?
There are many tools on the web that make it quick and easy to create animated GIFs. You can either start with video and tease out a series of still frames or simply a set of photos.  Using tools like Imgur, you can string these into GIFs, or design them using more sophisticated software like Photoshop. Here's a cool guide to get you started.
There are more user friendly alternatives to Photoshop for the non-designer, such as Gifmaker. Gifmaker allows you to upload a number static images and stitch them together into a GIF, as well as adjust dimensions and control the loop speed. Finally, if you don't have time to create one or are simply looking for some inspiration, head to giphy.com.