Yesterday the Startup Magazine had the privilege of joining MassChallenge at their official launch event, here in the UK. MassChallenge is a startup accelerator, originating from the US and provides mentorship, free office space, education, training and networking events. However, unlike other accelerators, MassChallenge does not take any equity from the companies they accept on their programme or place any restrictions on the entrepreneurs.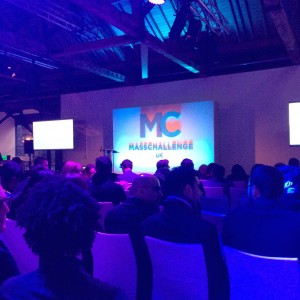 The event saw the introduction of some inspiring speakers followed by a live band, street food and craft beer by Crate. Amongst the speakers were John Harthorne, Founder and CEO of MassChallenge; and Linda Pizzuti Henry, Managing Director of the Boston Globe and Parminder Vir OBE., the Director of Entrepreneurship at the Tony Elumelu Entrepreneurship Programme. There was also a showcase of projects from pioneering MassChallenge alumni, such as Minhaj Chowdhury, founder of Drinkwell a company that transforms the global arsenic and fluoride water crisis into an economic opportunity and Ted Acworth, the founder of Artaic, a company that creates custom tiles using robotic manufacturing and computer aided design systems.
MassChallenge is now accepting applications to their UK programme, with their deadline on the April 1st 2015. For further details, about MassChallenge and their program can be found on their website, masschallenge.org.