The transition to mobile work and freelancing is more accessible now, thanks to modern breakthroughs in technology. While this transition seems easy in concept, there are plenty of things companies don't account for when it comes to cybersecurity. To keep data safe, leaders need to educate their workers in business data security while also implementing the following practices.
Use a Mobile File Server (MFS)
Most businesses will use a remote desktop connection, virtual desktop infrastructures, or a VPN to move data in their networks securely. However, these methods aren't accessible from a mobile device or laptop outside of this network, and using a file sharing service from a mobile device is often unsafe. A mobile file server can solve these business data security problems so remote workers can retain standard workflow. MFSs help companies stay legally compliant as they add secure access, disaster prevention, and recovery to files servers on-premises with cloud migration. 
Educating Remote Employees on Cybersecurity
Most of your employees won't have an extensive knowledge base on how to keep their data safe on a global network. You can counsel them on how to stay away from untrustworthy sources and links all you want but that won't prevent widespread security breaches. If your company handles classified information from clients, you need to set up a meeting that goes over cybersecurity basics. Employees may need extra training or courses in cybersecurity if they need to access these documents consistently or have to upload documents themselves.
Lock Devices Before Walking Away
This simple but effective tip can ensure that people in your space won't be able to access documents on your computer or mobile devices. In a public area, it's easy for passersby to get a glimpse of your documents and snap a photo, but locking your device will prevent that from happening. Ask your employees to also lock their home computers to encourage this habit.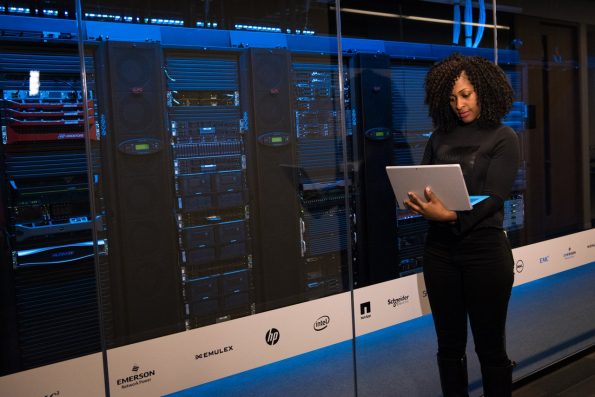 Protect Devices with Antivirus Software
Businesses will usually buy a range of products that protect their computers from malware and viruses, but your remote employees may not have these measures in place. It's more challenging to offer a higher level of protection as a single employee because of the high expense. However, if a company doesn't install antivirus software on their remote employees' computers, they could be vulnerable to a massive business data security breach. There are plenty of free antivirus software that work just fine, but it's better to install one program on all remote computers to stay consistent.
Employ User Authentication
Remote employees should be subject to strict access control, including multi-factor authentication, whenever they want to look at or edit company documents. Never make file serves or other resources accessible to anyone to simplify tasks. It's better to adopt a principle of least privilege, even if it's inconvenient because it's well worth the security benefit.
Configure Wi-Fi Encryption and Change Login Passwords
You could put every measure in place to protect against hackers but those become insignificant if your password is easy to guess. Wi-Fi networks are encrypted using a password that should be changed frequently (preferably weekly) to avoid someone accessing your computers. It's in your best interest to create a complicated password that's longer than 12 characters. You should also ask your employees to change the router login and password because the default password is usually too weak. Use WPA2 encryption for the highest security standards.
Use a VPN if Using Public Wi-Fi
Remote workers love to work in a public setting because it can lead to them being more productive. However, if you don't ask your employees to use a VPN while using a public network, they probably won't, and your business data security is at risk. VPNs are usually associated with accessing foreign media, but they're also helpful for encrypting your network settings so outsiders can't use them. To make this transition second nature for your remote employees, ask them to access their VPN settings, so it encrypts when they start using public Wi-Fi or immediately after the computer connects to any network.