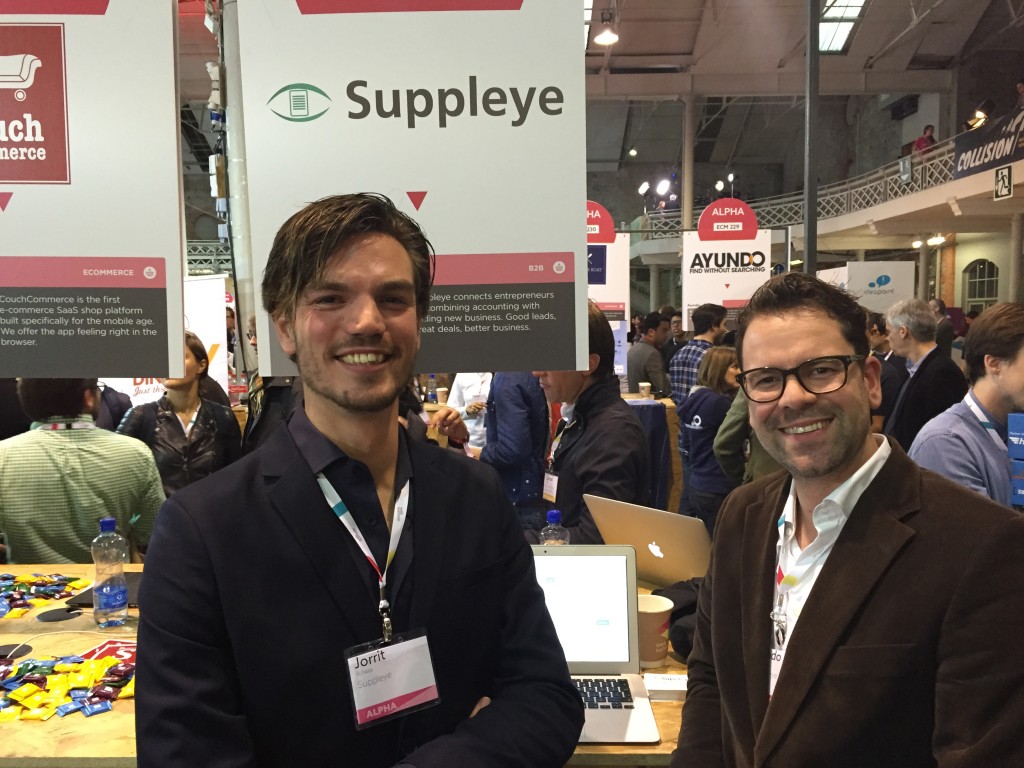 Suppleye consists of three experienced co-founders who are used to running businesses. The basics of running any business is keeping an eye on expenses and generating new business. Those key elements are vital and we wanted to create a platform where business owners can do both at the same time. That's what inspired us to start Suppleye. We wanted to create a system where business owners are rewarded for running their business in an organised manner, allowing them to save on expenses and save on finding new customers at the same time.
What do you most enjoy about running Suppleye?
Suppleye gives us the opportunity to build a network of entrepreneurs that can help each other do better business. We are busy on a daily business to think creatively and find innovative ways to help our users work cost-efficiently and find new customers in the current challenging times of economic depression. The positive feedback from our users is what really makes up happy. Helping our users is our ultimate goal and it inspires us every day. To help business owners do better business is our passion.
How does Suppleye stand out from competitors in the industry?
Contract management and lead generation are existing solutions that business can make use of. The combination of both within one system as introduced by Suppleye is unique. The fact that we can offer our service free of costs and that we can smartly connect users of our system with each other is a new way to help entrepreneurs work more efficiently.
What does your normal day look like?
We have a long list of features that we want to work on, businesses we want to visit and steps that we want to take. An important part of our day is to prioritise what should be done that day. All three co-founders take up tasks on their own and when necessary we visit businesses together. We don't have much of a private life at the moment, but that's something you have to accept if you want your company to grow fast and be a success.
Coming from what is the startup scene like in Amsterdam?
The startup scene in Amsterdam is very interesting. There are many events being organised, several accelerators are based here and there's a high density of co-working spaces. Amsterdam is above all a very compact city where you have a lot of businesses together, so visiting companies doesn't require a lot of travel. There are many inspiring places for meetings, lunches and dinners and there's always something to do at night, any day of the week.
Do you feel an easy access to the european markets?
Definitely. We recently exhibited at Europe's largest tech conference, the Web Summit in Dublin. It's great way to meet potential business partners and investors and what we noticed was that there was a lot of interest in Suppleye from visitors from other countries. Attending the Web Summit alone has given us opportunities to expand to other countries. Next to that, Holland is a great country to test any tech idea before expanding to other European countries.
What has been your most valuable lesson so far since starting your business?
Starting a business requires determination, consistency and perseverance. We have put a lot of time and energy into Suppleye to get where we are now. Doing proper market research before deciding on the form of your idea and talking to your business network are essential elements. We still value the feedback of users above everything and we try every day to optimise our system and to make it more attractive for new users. We believe this to be the key to success.
What has been your greatest achievement so far?
We can do all the development in-house. This gives us a lot of freedom and keeps allowing us to work fast and experiment a lot. The launch of our website was spectacular and something we're very proud of. The high conversion rate of our sales efforts is also something that's worth mentioning.
Suppleye is not your only startup, how do you keep being inspired to start new businesses?
We get a kick out of developing products based on great ideas. We don't like standing still and we're always busy looking for solutions to new challenges. Most people value their private life above everything or have a 9 to 5 mentality when it comes to working. That's okay of course, but for us we get a lot of energy from developing, discussing and finding smart solutions. By working longer we always find time for creativity, which in the end helps us forward.
How do you balance your time between those businesses, and your hobby of playing the guitar?
I play the guitar every Wednesday night when we practice with my indie rock band Eddy's Vinegar. I also keep a guitar next to my desk. When creativity comes to you, you should answer. If it comes in the form of a song, I take a break and pick up my guitar. I quickly record the idea and then continue to the task at hand, knowing that I can share my idea with my band on Wednesday.
In the coming year, what would you like to achieve with Suppleye?
There are about one million businesses in the Netherlands. We want to have 5% of those businesses as users of Suppleye within the first year.
What advice can you give to newcomers to your industry, or the startup space in general?
If you have a good idea and you believe in it, make sure you put a lot of time in it. That's the only way to make dreams come true. Anything important takes effort. If you put other things first, you'll have less chance at success. Also, the most important thing is the actual market and your users. Start with proper market research and keep collecting feedback. This is something that's easily overlooked by startups who believe in their idea and product but forget to start with checking if anyone is actually willing to use it. Feedback from people outside your team is the most valuable information you can get.