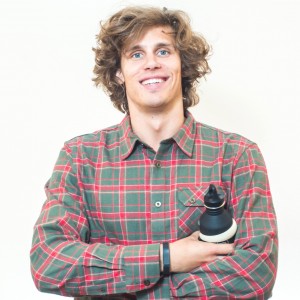 The Hug is a mobile-empowered sensor band that wraps around water bottles and links up to a smartphone app which tracks daily consumption in real time. An advanced algorithm sorts through meaningless movements, recording only those that correspond to drinking and matching longitudinal readouts against user-specified goals.
Who is your startup aimed at?
Everyone from the average office worker who drinks a disproportionate amount of coffee compared to water daily, to the athlete that is keeping a close eye on his/her hydration. Hydration is the human body's single most important nutritional need, and now thanks to The Hug, taking in the right amount of water has never been easier.
How does your startup stand out against its competitors?
You see a lot of fitness products that try to shame people into using them, or attack personal self-esteem as a way to inflate a non-issue. We recognize that chronic dehydration is a serious concern and can cause serious problems, but at the same time, we're well aware of how hard it can be to do something about it, even when the right information is available. In fact, that's why we came up with The Hug in the first place. The Hug lets you know how much water to drink and gives you friendly reminders in case you don't keep up. It can provide you with information and graphs to help you establish a connection between proper hydration and your overall feeling and performance. However, there aren't any social comparison forums or any of that. It's just a useful tool to help you track your own progress, on your own terms.
Where did the idea for the startup come from?
The inspiration for The Hug came from our own habits. I am an avid outdoorsman but could only bring myself to stay hydrated when my girlfriend was hounding me, and I felt constantly fatigued and affective as a result.
Our COO, Tappi Honkavaara, meanwhile, used to drink a cup or two of water a day, in between the 15 or so cups of coffee that gave him "some of the nastiest headaches you can imagine."
We found that our problems are hardly unique. According to a 2012 Center for Disease Control study, 43 percent of Americans drink four cups of water or less a day, well under the eight cups recommended by experts. Approximately one in four school-aged children don't drink any water all day.
Did you have any concerns when starting your business, if so what were they?
One of the big concerns we had was that we knew the hardware business is a lengthy and money-consuming process. How would we cope over the long development period until the time when we had some paying customers? Securing some initial funding is often crucial for hardware startups, and most of the crowd-funding prodigies have actually raised investments before their campaigns. Even getting close to a manufacturing prototype takes a long time.
Starting a company is an exciting time, but also insecure. You don't know where you can scrape the next dollar to cover rent and food, or if your startup will even be around the next month. It was challenging to overcome this mental setting and learn to live with the uncertainty.
What is your business background, and what got you interested in startups?
I am a young entrepreneur who started my first business in 2008. I have experience in everything from market research for a Series-A funded startup to building handmade skateboards targeted at a niche market in Finland. But I have always been active. In Fall 2012, we got invited to pitch and show off our early prototype for The Hug at Slush, Northern Europe's biggest startup conference, and it became clear that we had something special. From then on it has been a fast-paced adventure, eventually leading us across the Atlantic to NYC to incorporate Caktus and get to know the US market.
How did you initially raise funding for your company?
We were accepted into a business accelerator program in New Jersey in 2013. That resulted in pre-seed funding from the accelerator. In 2014 we raised a small seed round led by Kima Ventures and a handful of US angel investors.
What has been your greatest achievement so far?
We have overcome many challenges to date. Right from the start we had to struggle with US visa issues and there was even a risk that part of the team would not have been able to participate in the accelerator program. The complexity of the product development process has also taken us by surprise and now we are finally very happy to have The Hug ready for small-scale production. But to conclude, I must say that one of the team's great achievements is that despite not being able to raise any salary for almost a year (yes, some of us have also actually lived at the office…) we have kept on pushing forward believing that The Hug can make a change in peoples' lives.
How have you kept your business relevant and engaged with your audience over the last year?
We have a core group of supporters who have been giving us feedback over the long months of product development. We also try to be somewhat active on social media, distributing interesting health and hydration-related information on our Twitter and Facebook accounts.
How long has your startup been in the making, and who is the team behind the business?
The Hug really took off in 2012 after Slush and the good response our product received there. We have a great team behind The Hug including, Heikki Säteri who was a research assistant at Aalto University and interned at GE Healthcare; our lead developer Olli Tiihonen, who is also the CEO of Houndmedia; and of course our COO Tapani Honkavaara who also studied at Aalto University and has worked at several different startups before Caktus.
What has been your biggest challenge so far as a startup owner?
I think that entrepreneurs face challenges not just on the business front, but also in their personal lives. It's not always easy for family and friends to understand that for a startup entrepreneur, the business is often much more than just a regular 9 to 5 job. The company requires sacrifices both time and finance-wise, and the ups and downs of the business rarely get left behind at the office. I have found it extremely difficult trying to learn to set my computer and email aside in the evenings and weekends, but thanks to my significant other, I have learned to let go and relax from time to time. However, it does take a significant amount of time to learn to understand that it's better to turn off the entrepreneur mode at least for some time, so that you can go back to the office next morning, rested, relaxed and amped up.
In the coming year, what would you like to achieve with your business?
Our top priority is to land a successful crowd-funding campaign (launching VERY soon!) and ship our very first batch of Hugs to their hands. We are also planning a handful of pilots with corporate and healthcare partners, and very much looking forward to expanding the market opportunities. We know that there is demand for a product like The Hug in different settings.
What has been your most valuable lesson so far since starting your business?
Always take other people into account, it's just as important in business as it is in other aspects of life. By being honest, considerate and respectful, people remember you and are willing to help when you need a hand. It's also important to help your fellow entrepreneurs whenever you can, since their success eventually contributes to yours as well.
Finally, if you could give one piece of advice to someone thinking about starting a business, what would it be?
Validate the problem, get feedback from as many people as you can about your solution and then "just" execute! The latter part is by far the hardest, and most wannabe-entrepreneurs fall off the wagon when they actually have to start the hard work to make the business take off. Things take time and effort, and you need to understand that success does not come overnight. So just keep on pushing and you'll make it, eventually!
Related articles