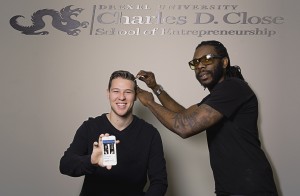 MyKlipsPics is a Free mobile application, for all your favourite haircuts. MyKlipsPics allows users to show their stylist photos of their desired haircut. As a result, MyKlipsPics eliminates the uncomfortable and timely process of having to describe how you want your hair cut…… We are targeting those who care about their hair, and want their favourite haircut, every time.
How does your startup stand out against it's competitors?
We have the first to market benefits. There isn't another app like ours. The way that MyKlipsPics allows you to take 2×2 front, back, and 2 sides photos of your preferred haircut, and use it for future reference, allows you to walk into any salon or barbershop and not have to describe your desired look any more, you just open up your MyKlipsPics app and say "DO THIS!"
Where did the idea for the startup come from?
The idea stemmed from getting terrible haircuts for almost two years. I left California to study business at Drexel University in Philadelphia, and with that transfer I left my hair stylist that I was going to for years. Once I came to Philadelphia, I really struggled finding a good haircut. I went to over 15 different barbershops and salons trying to find a good haircut.. I found out, when I brought a photo of my desired haircut that shows the stylist how my stylist back home does it, it really helped the stylist/barber. So I build an app, that allows me to save 4 photos of my haircut, notes of what was done, and contact information of that stylist.
What is your business background, and what got you interested in startups?
I am a Senior at Drexel University in Philadelphia studying Entrepreneurship. I have always been creative, and took different angles in everything I've done. Growing up I was always looking for the most efficient way to do things and also how to exploit the resources you have to warrant yourself a competitive advantage.. In high school, I ran my own quarterback camps. Once I graduated high school and left to study business, I started out studying finance, but I felt my creativity was being put on the back burner. So, I switched majors to entrepreneurship, which has really worked out. I have been apart of a few start-ups, but this is the first start-up that I have founded and taken to the market.
How long has the your startup been in the making, and who is the team behind the business?
My start-up began in January of 2014, and we hit the app stores in late February. I had the vision of my app all figured out, so when I linked up with an alumni of my University, Nick Pirollo, who was the developer and Co-Founder for a great start-up called Scholly, which is firing on all cylinders now, and I told him my idea, he loved it, and started coding. 5 weeks later, we were in the app stores. I also have a product manager on board with me, named Ryan Lockard, he has been working in the technology industry for over 10 years, and his expertise in the field really warranted MyKlipsPics a great understanding of what the user experience needs to be, but also what our app needs in order to be attractive to companies who may want to acquire us.
What has been your biggest challenge so far as a startup owner?
So far, we've experienced smooth sailing. I do have several emails out to companies like L'Oreal, Aveda, Paul Mitchell, Johnson & Johnson and Procter and Gamble who I would like to speak to, because all my users care about their hair, that's why they have our app. Our users are the exact target market that these companies spend millions of dollars advertising towards, so I believe we could really work out a great partnership once we speak.
So far what has been your greatest achievement?
Launching our start-up with a budget of 2k was a great experience. I am in a class offered by our Entrepreneur School, the class is called 'Launch -It!'. In the class you are given 2k of seed funding to launch an idea. I used that 2k to launch MyKlipsPics. It was a lean start up at its finest, and were able to exploit our resources to still gain traction and have a great launch and see steady growth.
In the coming year, what would you like to achieve with your business?
Continue to gain traction in the market place, and have MyKlipsPics be a family known name, world wide, as "The Must Have Hair App"- PhillyMag. We would also like to establish partnerships with hair care companies, and create a mutual beneficial partnership between the two of us.
What has been your biggest lesson from starting your own business?
This was the first product I've taken to market thus far, so I was very anxious to release our first version to the app store. I'm not alone, it's very common for college entrepreneurs to be excited about their launch, but if I would have been a little more patient we could have had a few updates we sent in, not of been updates, and could have rolled out as a feature with our first released product such as 'Reverse Selfie Cam' which is now available to our app.
If you could give one piece of advice to someone thinking about starting a business, what would it be?
One piece of advice for an up-and-coming entrepreneur would be to pick up as many skills as you can prior to taking on a start-up. If you know Photoshop, a little about film editing and web design, you could save yourself a big chunk of change for each start-up. A lot of money goes into graphic design work, promotional videos, and designing a website. If you know those skills, you really cut your start-up cost tremendously and spend that money on other aspect of your start-up.
Related articles