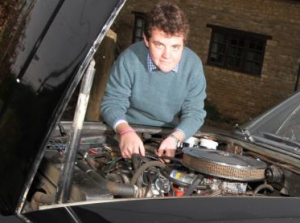 Ollie Forsyth, is 16 years old who runs his own gift Shop whilst  studying for his GCSE's. His store sell fun and inexpensive gifts including, Bracelets, Cuff Links, Leather Polo Belts, Retro Leather Wallets, Necklaces. After his school career, Ollie hopes to continue with Ollie's Shop.
In his first year, Ollie's Shop made £2,500 profit, and in 2013, and nearly doubled it's profits compared to 2012! By the time Ollie is 25, he hopes to have created one of the biggest online gift shops in the world..
Who is your startup aimed at?
My business is mainly aimed at teenagers, however we also get a lot of mums and dads buying my products.

How does your startup stand out against it's competitors?
I am very lucky because I don't have very many competitors. I've always wanted my business to stand out and to be well presented, I have exceptional customer service, if anything needs sorting, it will always be sorted within the next couple of days. I've always said "belongs you look after the customer, the business will take care of itself.
Where did the idea for the startup come from?
During a history lesson at my previous school, I saw my teacher wearing a bracelet that cost £100, so I went home and discovered you can get replicas for £10, so I managed to get 10 samples, for free of course, sold those and made my first £100. From there, I managed to get the cost price down to £5, and mange to sell 300 in six months at £10 each! I knew I could make a lot of money out of this, so I decided to pay someone to make a website and I decided to build a company.
What is your business background, and what got you interested in startups?
Aged 6 or 7, I started making my parents Tea and Coffee in the morning, charging 20p a cup, I new instantly from there, that I was going to become the next Branson. In 2013 I made double compared to 2012, and like Sir Richard, he has his own Startup Charity, Virgin Unite, and we mustn't forget The Princes Trust!, reading the stories made me want to get involved in startups, I wanted to help create peoples businesses and not just make them thousands but hopefully millions!
How did you initially raise funding for your company?
I had very little money to start with, I had no backing, so I had to do it myself. My business ethos has always been, my parents had to find their way through life, so, so will I!
What has been your greatest achievement so far?
That's a real tough one, I have have an incredible life so far, I would say my biggest achievements so far are:
Starting my own business aged 13
Becoming a Uk Ambassador for Winners Win
Do you think starting a business at a young age made your experience of starting a business different to others?
Many people have different talents and everyone different. I think starting my own business, has made me a much more confident person, and it has made me look on life differently. When people come to me and ask for help, they have a very long route in order for them to make any money, but I am lucky and I can see a quick and direct route! Obviously everyone has different opinions, however my advice normally proves a good strategy.
How long has the your startup been in the making, and who is the team behind the business?
I started Ollie's Shop in 2010, and we are already in 2014! I have made over £50,000 since then, but I'm very lucky for all the help I've had. I've also had a lot of endorsements from Celebrities including, India Hicks, Dame Kelly Holmes, William Fox-Pitt and many more.
I am at school four hours away from home, so when I decided to go to Milton Abbey, My mum said she would run it for me whilst I'm at school. This was brilliant for me, because I had created a company, I was making money and my mum was on a salary too!
What has been your biggest challenge so far as a startup owner?
The biggest challenge has been people undermining your dreams and goals. I've taken no notice of them, being dyslexic, I have struggled massively at school for the last 10 years, but never undermine yourself otherwise you will achieve nothing in life, always have faith and always believe in yourself!
In the coming year, what would you like to achieve with your business?
This year, I would like to make £50k, it's a huge target, but with my motivation, it is possible! I also hope to become an Ambassador for a charity.
If you could give one piece of advice to someone thinking about starting a business, what would it be?
Before starting your business, do your market research, develop your idea as much as you can, get some advice from another entrepreneur and believe in your product and I'm sure with the right enthusiasm, you will succeed!
If you have a business idea and would like some advice, please do get in contact with me via my website. www.ollieshop.co.uk. Good Luck!
Related articles