So, you have just launched your new business, you have an office and an enthusiastic team, but now what? How can you go about creating the best environment for your team?
The type of environment your staff require will depend on the kind of business you are running. Think about what your staff need to be able to work properly – access to computers, silence, large desks – whatever it is, it's essential that you accommodate them with it.
It is important that your team is happy, motivated and working well. Otherwise, you could end up losing them to a competitor.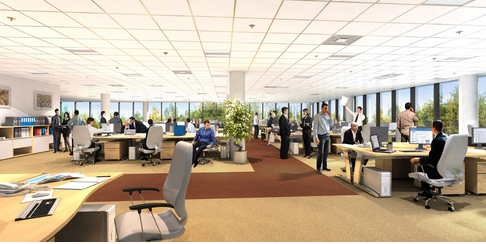 (Photo credit)
For an excellent working environment, here are four things you need to implement.
A clean and tidy environment
Whilst you may have more on your mind than keeping your staff toilets clean and the cloak room tidy, a clean working environment is essential for a happy team.
Staff don't want to work in a place that is messy or dirty, so ensure that your office is kept as clean and tidy as possible. Whilst it may be worth asking your staff to tidy up after themselves, you may also want to consider hiring a cleaner. If you don't have the time to keep on top of the day-to-day office maintenance and cleaning, it would be wise to hire someone else to do it for you.
When hiring a cleaner use a reputable company to do so. Ensure that you stock up on all the products that are required for keeping your office clean and tidy, like the best floor cleaners, detergent and antibacterial wipes.
Create a free environment
Make sure to give your staff all the guidance and the support they need without killing their creativity. Don't get into the habit of micromanaging them, there is no need to insist everything is done exactly how you want it done. Whilst things may not get done exactly how you want them too, most of the time they will still be done correctly. So, there is no need to stress about it.
Give your staff free time to think and work, don't set strict deadlines that cause them to rush their work. Allow them to work at their own pace – as long as they get their work done, it does not matter.
Create a trusting environment
To show your team members that you trust them, delegate control of individual projects out to them.  If your staff feel like a real part of your company, they will work harder and put more into it.
A great way of showing your team that you trust them, is to give staff members small budgets to manage. Give your team a monthly budget for purchases, investments and events and let them decide what is worth spending the money on.
Create a friendly environment
Whilst you are the boss and are ultimately in control, it does not mean that you can't be friends with your employees. Creating a happy, friendly environment where your staff feel that they are equal to you is an excellent way to run your business.
Set aside one day a month for team building activities. Book you and your team onto team building activities and events.