Hotjar builds intuitive and disruptive research and optimisation tools for web businesses. Our flagship solution – Hotjar Insights – is the first cloud-based tool to give you unlimited insights from your web and mobile sites. With one simple affordable plan you can generate insights on an unlimited number of websites – and make these available to an unlimited number of users.
How did the company get started?
The Hotjar team includes world experts in Web Marketing, UX, Conversion Rate Optimization and Platform development – in fact our founding team all have a background in design and web marketing. Before Hotjar we were all working on separate projects but in the past we all actually knew each other and worked together on several projects. Dr David Darmanin, a conversion rate expert brought the team / different talents together and created the vision for the company.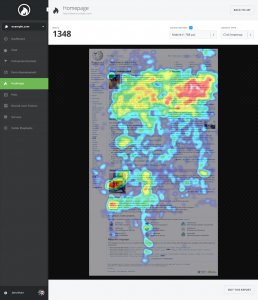 What is new/exciting with your company now or in the near future?
Hotjar is disrupting the 'site feedback and optimization' industry. We want to make it easy and affordable for any site owner or organisation to quickly understand why their visitors are not converting / using their site – by leveraging technologies such as visitor playback, heatmaps, polls and surveys. But Hotjar will not end there. We have a very ambitious vision for the future – but let's just say we cannot reveal too much for now.
Who do you consider your competition? How are you different than your competitors?
Services like CrazyEgg, ClickTale and Qualaroo only offer one core feature e.g. heatmaps – at a premium price. To justify this they create additional features that you really do not need. You are also charged with complex plans based on how many sites, users and page views your site has. Features are also limited based on the plan you pay for. With Hotjar Insights there are no pageview, site or user limitations – we have just one simple plan that delivers unlimited insights.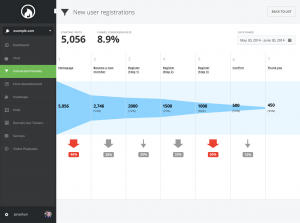 Is it Hotjar truly Unlimited?
Yes – with one simple affordable plan you can generate insights on an unlimited number of websites – and make these available to an unlimited number of users. Hotjar will also gather insights from an unlimited number of page views. To make this possible we sample reports such as heatmaps and email surveys with over a million data points so you can still get statistically accurate insights at a very affordable price. Enterprises that want deeper and more complete data can remove sampling at an additional cost.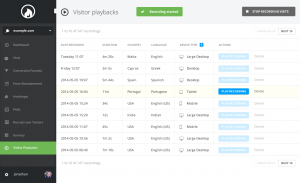 How can hotjar benefit an online business
Hotjar users can understand what their customers want, and get a visual representation of their clicks, and scrolling behavior.
Hotjar can help you find the biggest opportunities for improvement and testing, by identifying on which page and at which step most visitors are leaving your site. Improve online form completion rates by discovering which fields take too long to fill, which are left blank, and why your visitors abandon your form and page.
Hotjar eliminates guesswork with recordings of real visitor behaviour on your site. By seeing your visitor's clicks, taps, mouse movements you can identify usability issues on the fly.
To find out more about Hotjar, and to get free access to their application on the Hotjar website.
Related articles