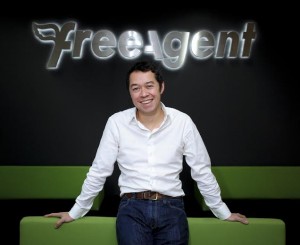 Online accounting pioneer FreeAgent is celebrating another major industry accolade after being named as one of Europe's top financial technology companies.
The company, which provides the UK's market-leading online accounting system for small businesses and freelancers, was listed in the FinTech50 2014 – the annual shortlist of the leading 50 businesses in Europe that are redefining financial services through technology.
The prestigious shortlist is selected by a panel of industry experts from across the financial services and technology industry, who gather to select the European businesses that they believe demonstrate the potential to become game-changers in FinTech or have the competitive staying power to continue being one.
FreeAgent's position on the FinTech50 2014 was announced during the first ever FinTechCity – three days of events held in London for technology CEOs, financial services, investors and acquirers.
Ed Molyneux, CEO and co-founder of FreeAgent, said: "We're delighted to be named in this year's FinTech50 list of the hottest financial tech firms in Europe. It's not only a huge accolade for us, but also a great testament to all the hard work we have put into making FreeAgent the most intuitive and innovative online accounting system for UK small businesses and freelancers   
"2013 was a great year for FreeAgent. We cemented our position as the UK's market-leading online accounting system, partnered with some huge online payment companies both here and in the US and we won a number of major awards in the business and technology sectors. We also introduced our new 'Fast File' feature giving sole traders the ability to submit Self Assessment tax returns directly with HMRC from within FreeAgent –  becoming the first online accounting system to provide this functionality.
"We're now looking forward to continuing this success into 2014 and beyond. I'm sure that our place in the FinTech50 will spur us on as we continue working towards our goal of 'democratising accounting' by enabling small businesses and freelancers to manage their finances as intuitively and easily as possible."       
The FinTech50 listing is the latest in a list of high profile accolades that FreeAgent has received over the past year, including a top 10 place on the Deloitte Fast 50 list and two awards at the 2013 AccountingWEB Software Satisfaction Awards.
Related articles