As part of The Startup Magazine Founder Interview Series, we interviewed Maha and David Harper, wife and husband co-founders of Atlas Group London, a construction-tech startup that has digitized the building of healthcare facilities. As entrepreneurs with a passion for helping others, they've built a company that is vastly accelerating the ability to deliver healthcare to the most needy global communities.
The Atlas Group London system is a suite of unique software tools on a single platform that is without precedent in today's healthcare sector.  The digital platform ICAS®, Integrated Construction & Architecture Software, completely digitizes the design, procurement and logistics process of building healthcare facilities. Their rapid process from design to installation of healthcare facilities is helping to improve quality healthcare around the world.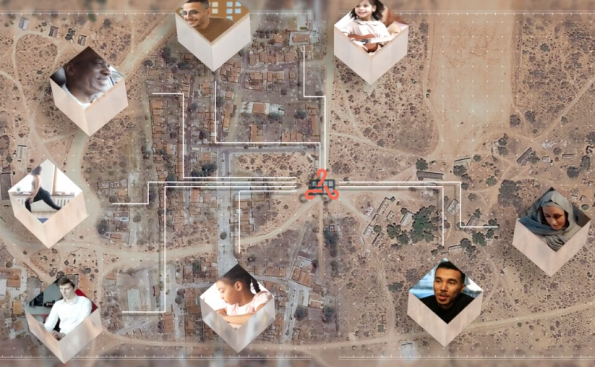 David has twenty years' experience in the healthcare construction industry with a background in construction project management. He has acquired expertise and know-how across a broad range of capacities from subcontractor roles for specialist building technologies to representing clients on behalf of multi-national stakeholders.
As a corporate lawyer in private practice and in-house roles specialising in cross-border commercial and financial transactions, Maha has a solid reputation leading complex international corporate and commercial deals across multiple jurisdictions. Her work has been commended in leading industry publications and gives her unique strategic insights into the global healthcare ecosystem.
TSM: Describe the Atlas Group London's offerings in 10 words or less:
Maha:  Our digital platform transforms how hospitals are designed & built.
TSM: With a bit more detail, what does your company do? (Share with us what problem you're solving)
David:  We are cross industries between Construction Tech & Healthcare – addressing two of the largest economic drivers in the world.  Our digital platform (ICAS®) is designed for healthcare operators on a mission to modernize the way they design, build and operate their healthcare facilities.
Construction is a trillion-dollar market, but planning remains complicated and inaccurate. The consequences of being late or making critical mistakes tally up into the millions, yet McKinsey estimates that 90% of projects suffer cost overruns – and two thirds are at least 40% late.
Construction Tech is the common terminology used to describe the new era of technology & innovation which is set to disrupt the traditional construction industry.  When it comes to Construction Tech & Healthcare, we are still at the very beginning of this new trend – especially as the convergence of technologies including cloud, AI and IoT are fueling both interest and drive to Construction Tech.
TSM: That's quite a laudable challenge from both a business and human impact perspective. What is the key question you are addressing?
Maha:  On the one hand, 50% of the world's population don't have access to adequate healthcare services. Governments are prioritizing healthcare projects now, more than ever. There is a massive need to expand healthcare infrastructure.
On the other hand, limited budgets, and the manual nature of the construction sector means that healthcare projects are often late and over budget – making it very difficult for healthcare stakeholders to scale effectively.
So, the key question we are addressing is this: How do we increase access to healthcare services, and at the same time, reduce costs for healthcare stakeholders?
While the Generative Design portion of our platform is really innovative and exciting, we are also bringing different project systems together & integrating various software solutions – essentially minimizing the disconnect between different disciplines. By interconnecting the design, procurement, and construction process into a single software platform, we provide customers with an "aggregated source of truth" for their projects delivering a unified offering to them that streamlines the entire process.
TSM: What kind of traction are you getting and can you share some examples of your product impact?
David:  Anyone who has ever built a hospital recognizes the value in what we're doing.  So one of our major focus points has been: How do we support the adoption of our platform by customers?
We feel that it's important to ask questions, instead of just pitching to customers.  The overall vision is important of course, but for customers, we really need to get down to their main pain/pinch points so that we can help solve them. So, our pathway to the right stakeholders has really been through our Customer Engagement Framework.  These are customers who have experienced the delays, conflict, disputes and poor quality associated with conventional project delivery models.
This entails deploying a DevOps model in our first year of development.  This is where we lead a team of experts to engage with representatives from the customer's project delivery team across key business functions including design, procurement, commercial, contractual and project management. This way we can make sure that we deploy a targeted approach that will not disrupt the customer's operations. This approach will support the development of a platform that closely matches the customer's expectations and can be put to good use straight away.
Our industry experience, combined with ICAS®, will deliver a deep transformation program for customers that results in more than just a technical outcome.  ICAS® can then be scaled up across the customer's portfolio bringing enterprise-wide benefits.
TSM: What are the disruptive factors in the construction industry that make your business efforts so promising?
David:  While the industry, in the last decade, has started to move towards digital solutions, they are mostly "point solutions." For example, there have been really effective design, procurement, logistics/tracking and energy efficiency solutions. But this has, in effect, been digitizing those traditional silos.
It's becoming harder, and less effective, for the end user of all these different siloed point solutions to effectively use & coordinate them all.  Essentially, using multiple platforms or solutions and data exchanges throughout the process – doesn't really do away with the delays and cost inefficiencies everyone has seen time and again.
What we've seen, is that the ecosystem is really shifting towards integrated software platforms (like our ICAS® platform) – and specifically those that enable broader integrations in the built environment, and which serve specific sectors (like healthcare). ICAS® will give customers real visibility over their project, its metrics and progress – ultimately better serving their needs. At the end of the day, if the technology exists, but it's not being adopted, then the impact and benefits won't be seen.
We are solving that problem for healthcare construction.
TSM: From where you started, have you had to adjust your strategy over the years? Describe the company's pivot point, and its impact on the company?
Maha: In 2014, we visited the Kakuma Refugee Camp in Northern Kenya as part of a Gates Foundation/United Nations led initiative to build schools & clinics for the community. We met with local stakeholders there to understand the challenges first-hand and present a detailed assessment to funding bodies.
It became clear to us that while funding bodies are committed to supporting positive interventions and are ready to provide financing, they are discouraged by previous projects that cost too much and took too long. It became clear that if stakeholders are offered an "all in one" delivery model with four corners around time and cost, then funding bodies would be far more likely to finance these initiatives.
Even though that's really how ATLAS was born – our platform is not aimed solely towards developing countries and community service projects. We've realized that our solution is a universal one for healthcare construction, and so I would say, that we've "pivoted" towards addressing the fuller healthcare construction market.
Our feedback from customers is that our platform is needed and will be adopted by healthcare stakeholders (in both the public and private sectors) seeking a higher quality product and better value from their capital investments.
TSM: As Atlas Group has grown, what have been the primary challenges? Hiring? Quality control? Capital?
David:  One of our main challenges, due to lockdown, has been not having those face-to-face meetings (with both customers and investors) – which are so much more effective.  But we're learning to adapt!
Our customer engagement has been solid, as has our engagement with partners.
At the end of the day, we think that the technology that we're developing will have a major impact down the line in other sectors in the real estate eco system such as change of use and refurbishment of existing buildings. ICAS® can be expanded into different sectors in the real estate eco system.  If our solution can be applied to healthcare (which is one of the most complex building types in terms of technology and systems), then it can easily be adapted for retail, commercial, and residential.
So, while lockdown has been tough, we have been able to line up our software partners (which include Oracle and Autodesk), assemble a world-class technical team, and finalize both our Development Plan and Customer Engagement Framework.  This has been a big step forward for us.
We are always interested in engaging with both investors and partners that share our vision – to help us really take this forward and scale.
TSM: As wife and husband and hard-working entrepreneurs, please describe your roles in the company. What do each of you focus on?  And what characteristics do you each have that particularly contributed to your success as entrepreneurs? Why don't you both answer this question about each other!
Maha:  David has deep industry experience in healthcare construction.  He's spent the last 20 years building hospitals.  His specific expertise is in Information Communications Technologies and Software Systems Integration.  Healthcare facilities have some of the most complex and critical technologies, so having someone with a deep and intimate knowledge of what's needed, and more importantly what works and doesn't work, is critical.
You can develop the best technology in the world, but if you don't understand what the end user needs, wants, and will use – then you're just building great tech instead of delivering a "must have" solution for customers.
David has built a solid reputation for developing exceptional client and partner relationships and successfully delivering large-scale commercial construction projects.
David:  If I'm the train, then Maha is the engine.  There is no one better at making sure that we stay on target in terms of strategy.  She's also our lead investor interface, and great at articulating our vision to investors and partners alike.  A lot of people ask us how we can work together as a husband-and-wife team, but our skill sets complement each other perfectly.   And if we didn't work together, we'd never see each other!
TSM: Going back to your early career decisions, tell us what factors influenced your decision to be entrepreneurs?
David: We have both worked in corporate and strategic roles during the course of our careers – in some pretty challenging environments.   One of the most important take aways (for both of us), and something we learned is so crucial when you're an entrepreneur, is tenacity.
Being tenacious enough to work through issues, roadblocks and challenges while at the same time being flexible enough to pivot when need be, is an inherent trait in both of us – albeit one we've had to hone even more as founders of a startup!
TSM: What are some interesting facts about each of you that people may not know?
Maha:  I grew up living all over the world as a child, and a weird side effect of that is that I don't like to travel all that much.  However, almost every job I've had has required extensive travelling.  I don't know if that's interesting, but it is a fact!
David:  I also spent a good part of my childhood in Africa and the Middle East.  Maha and I worked out that we actually lived in Saudi Arabia for two years in the 80's as children – at exactly the same time. From my time in Africa, I also learned to speak Swahili which I impress our children with from time to time.
TSM: The both of you and your company are impressive. We love your insights and seeing the impact you are making on your clients and global community. Best of luck for many more future successes.
David Harper
Co-Founder & CEO