As part of of our Founders Series, The Startup Magazine presents the following first person feature by Judah Parness, aka Skeeter Gumdrop, Co-Founder of Rent-A-Christmas, an entrepreneurial venture disrupting the way consumers decorate for Christmas. Judah gives us his startup lessons and insights that we can all learn from…
---
Christmas—a word first recorded in the year 1038 A.D. merging the words "Christ's mass"—is today the world's most celebrated holiday, with over 90% of Americans being inspired by the closeness, warmth, love, and of course, festivity of Christmas decorations. Even those who don't celebrate Christmas can appreciate the sights, sounds, smells and feelings Christmas can bring. These feelings are the foundation on which Rent-A-Christmas—the only Christmas tree rental and Christmas decorating service to deploy fully-costumed elves in setting up Christmas displays—was born in New York City.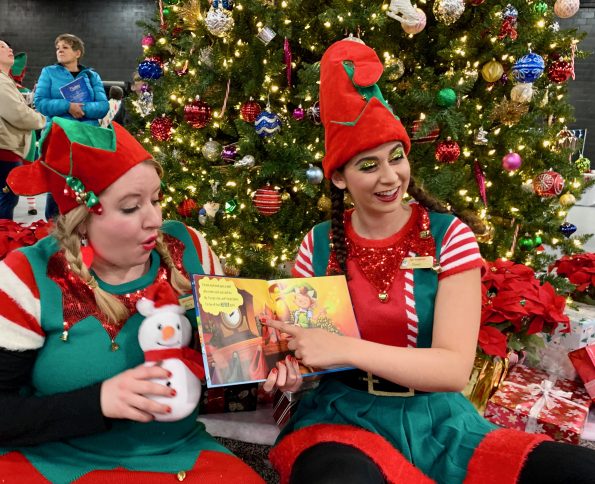 We believe that anyone can turn any passion into a successful business venture. We hope our thoughts can shed light for would-be-entrepreneurs on how to accomplish this task.
Find a winning idea
For my first Christmas with my now-wife and Rent-A-Christmas co-founder, Kristen Parness, aka Sparkles Peppermint, we were driving to Home Depot to purchase Christmas decorations and discussing where we would store our Christmas decorations after the holidays when a light went on: why can't we just rent this stuff instead of buying them? Both entrepreneurial by nature, we performed a quick web search which showed that no one else was renting Christmas trees and decorations in exactly the way we wanted it, and just like that, the idea for Rent-A-Christmas was born.
In our case, we hypothesized that if we were having issues and frustrations with setting up and storing Christmas decorations, then other New Yorkers would be looking for ways to rent a Christmas tree and other Christmas decorations, too.
Solve a problem, and do it in a way no one else can
Most people we've encountered, both personally and professionally, can relate to the feeling of dread when it comes time to hang Christmas garland or drag a live Christmas tree from down the street into an elevator, up, and into the living room, or even worse- up a 5-story flight of stairs. Then you're tasked with decorating the Christmas tree and other parts of the home, running extensions cords, hanging lights, and cleaning the dropped needles. After all this effort, and regardless if you managed to do it safely and properly, you can then finally enjoy the decorations for 3-4 weeks, on average. This is a lot of effort for 3-4 weeks of enjoyment!
But wait—there's more!
Then comes the part everyone dislikes the most – taking it all down, packing up the tree, the garland, the wreaths, the lights; dragging the Christmas tree down to the curb, leaving a thick trail of dried needles in the wake, getting pricked by branch tips along the way, and finally, storing any of your beloved Christmas decorations properly.
While most people we know love Christmas decorating we also know it is time consuming, tedious, and sometimes, dangerous – getting up on ladders and stepstools, stapling and hammering, getting the decorations just right—it's an arduous task, even with a lifetime of practice. With our rented Christmas decorations and services, Rent-A-Christmas became a solution and annual tradition for New Yorkers who simply wanted to enjoy their holidays with nice Christmas decorations, in the same way one might renovate their home or cater a party—they would outsource it to get it done and get it done well.
Don't be afraid of hard work
It's not like we came up with an idea, put our website online, and presto- instant success. Quite the opposite. Our first year's revenue was embarrassingly insignificant. It didn't matter, though, because what we saw from just one season was that the Christmas decoration rental and Christmas set-up services we were providing, and the way in which we were providing it, was so magical and desired, customers naturally gravitated towards it. We knew we had to persist.
Don't be afraid of failure
Around 2010 I came across the sales improvement website, 212 the extra degree, by Sam Parker. In this website, Sam sells a variety of sales-improvement related products, including wallet-sized cards with various messaging to help sales people stay motivated and remember that sales is a journey. My most favorite saying by Sam, is essentially, "We must minimize the tendency to make failures anything more than tuition for future success."
Well, what the hell does that mean? lol
It means that failure doesn't really exist if we can learn from our past actions – both "good" and "bad", positive or negative. If something doesn't go your way – that's ok! Don't give up on pursuing greatness.
This is not to say that every idea is going to be a multi-million-dollar venture. However, even if your first venture doesn't succeed in exactly the way you thought it would, it's ok! Maybe shut it down for a while and come back to it while you work on something else. Maybe your second idea, or third idea, or tenth idea will give you the satisfaction and income for which you are looking. Or maybe your second, or third, or fourth idea will give you experience needed to make the first venture successful again. The point is, learn from yourself and from others, and keep going.
Side note: There's another saying that many of us know – "know when to hold 'em, know when to fold 'em." I encourage anyone looking to start a business to persist with it for at least 2-3 years, but if you see that your idea is not gaining traction, perhaps it is time to fold (at least for a little bit) and focus your time on a different venture.
Build a dedicated team
Building a passionate team is critical for any startup serious about growth, success and customer satisfaction. People are at the center of everything we do.
The Rent-A-Christmas team, known to its customers as the Elves or the Elf Squad, shares in our values and the desire to spread joy through our rented Christmas decorations, and by manifesting the happiness that Christmas brings, provide joy to our customers. With five seasons of experience and a lifetime of love for Christmas, we provide an experience—not just rented decorations. It's not just the garland, tree and lights, but the experience of our team who joyfully does it for you, eliminating the hassle of doing it yourself.
Bonus: Naming your business
What's in a name, anyway? Everything and nothing, as it turns out.
There are many strategies to name your business, and I'm sure you can think of some names that seemingly have nothing to do with the products or services the company provides yet are catchy and well-known. The strategy we used to name our business is the descriptive method (as described in the article, Get Over the Business-Naming Hump With These 5 Strategies, by Peter Gasca)
Whatever business you aim to start- we hope we've been helpful in guiding your journey with our startup lessons. And if you're ever looking for Christmas decoration rentals, remember, this season don't sweat it, rent it!