There are, at minimum, two viewpoints on this important question. But, it seems that the most productive and most effective way to build a new business involves focusing on your target audience. Those who are in the early, planning stages of starting their own company may believe their market is "everybody". However, nothing could be further from the truth.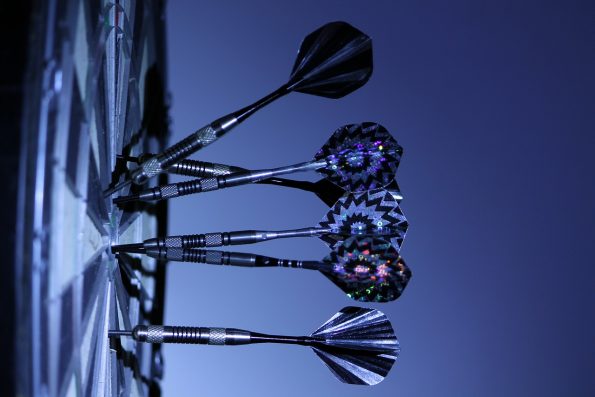 Mandy Porta offered some target market insights in an Inc.com article, "Targeting a specific market does not mean that you are excluding people who do not fit your criteria. Rather, target marketing allows you to focus your marketing dollars and brand message on a specific market that is more likely to buy from you than other markets." It's the effective way and the affordable way to reach clients and generate business.
What About My Brand?
Having a clearly defined brand is important as well. So you don't want to ignore this piece of the marketing puzzle. You should, however, understand exactly what "brand" means before preparing and distributing marketing materials. Think of your brand as the "name, term, design, symbol, or any other feature" used to identify your product or your service as distinct from others.
With this idea firmly in your mind, you should turn your thoughts to a target market again. Why, you may well ask? Look at the details that you'll use to identify your audience. Once you see how crucial this is to designing your product or service, and in preparing marketing materials for your brand, you'll understand why knowing your market is essential.
When you have a target audience clearly defined, you can "determine where and how to market your company", a process that includes figuring out how to present yourself and your brand. If you're already in business and have a small number of loyal customers, you should begin by looking at your current customer base. This will help you identify interests and characteristics they have in common.
Additional Research
Your next steps include being very sure you understand your service or your product, to the point of actually creating a list of features and benefits. This will help you find the people who will benefit from what you offer. It's also important to understand your competition. Then determine how your customers are different. Ask yourself if there's a niche market for you.
As you work on this stage of your start-up company, find specific characteristics such as where potential customers are located. Research gender and age, income levels, what their level of education is, occupation, and so on. You can learn a lot from the successful marketing teachers who start their training and seminar process by identifying a client's ideal customer.
Once this has been established, it's time to make use of marketing strategies, including brand details. In fact, these industry leaders firmly believe major investment in branding should be left to large corporations with recognizable names. In fact, this may a good time to put some effort into ten ways to engage and motivate employees.
Your brand-building efforts should come as a natural part of your business efforts. Most of your work should be focused on finding your ideal customer or client. Without this as your foundation, you'll be guessing.
Do You Have a Brand?
As you may have guessed, having a business identity is important, but it's not the best way for a new company to spend time and money. Once you have an identified target audience, people who will listen to what you have to say about a product or service, you can get to the details of branding. But, don't make the mistake many start-ups make and consider your branding efforts to be intellectual only, based on reason.
People buy on emotion first, then rationalize this decision later, using reason. That's why design is so crucial to business success, including choice of colors, lettering, shapes, and so on. For small businesses, there is some truth to the statement that your brand is "you". But you have to be careful at this stage. Don't design products or create services based on your interests and tastes alone.
You must create a look, a feel, and a way of communicating that stands out in a large marketplace. This will be much easier now, because you have put much of your effort into narrowing your market to people who are going to be interested in what you have to offer. This will be the foundation for all your marketing: print materials, flyers, online media, and more.
Focusing on your target audience is the path of least resistance as you capture early market share. Brand building is an iterative process that leads to an expanded marketplace and ultimately a scaled up, sustainable business.
 Is this article helpful? Please leave comments and feedback.