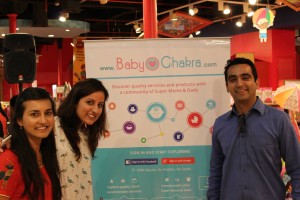 "If you're offered a seat on a rocket ship, don't ask what seat. Just get on." I reminded myself of Sheryl Sandberg's quote as I stepped off the plane from my hometown, London, to enter the sweltering heat of Mumbai, where my new job awaited me. I had taken the plunge of quitting my job in the city to pursue a role at an emerging market startup.
I chose to join an early stage venture called BabyChakra, an online platform that helps mothers discover trusted local services & products for themselves and their children. The startup journey is exciting, challenging and visionary. There is no one recipe for success when choosing the right startup to join. In this article I discuss some key factors to consider when choosing whether you want to join a startup, and if so, which one to join.
Vision
If you think big for yourself, find a startup that thinks even bigger. This will push the boundaries of your ambitions, force you to think differently and motivate you through tough days at work.
BabyChakra aggressively aims to capture a substantial share of the $30BN Indian maternity childcare market. Their value proposition is clear: Indian parents want a one stop shop they can trust to find high quality services & products for their kids online. BabyChakra means no more frustrating Google searches and no more unreliable websites. This vision appealed to me as I not only learn about a niche space, but also gain exposure to a scalable strategy whilst understanding how to adapt in a constantly evolving market.
Team
Seek inspiration from the startup team. My first few days at work highlighted to me the strength of close working relationships you build: the co-founders started off as my bosses, and quickly became my confidantes, my mentors, my family, my biggest fans and my star critiques.
No task is too big or small: the CEO can be found lifting chairs at the launch event whilst interns can take charge of pitches. Hierarchy disappears, a concept I looked for, which is a strategy I would recommend to many high profile CEOs. Joining a startup is a unique opportunity to find a culture that matches your skill set and personality: use it wisely.
Role
Identify your motivations for joining a startup, as these will shape the role you will play. Setting up a business requires an array of skill sets and often the team has to chip in wherever possible.
During my first week at BabyChakra, I found myself being a saleswoman, marketer, hustler, leader, friend, light-bulb changer, cheerleader and comedian. I went from blowing up a hundred balloons in five minutes and carrying ten coffees to a meeting to liaising with the Head of Marketing at a major corporation and creating the expansion strategy for a pan India vision. My tasks are hands on but my deliverables are clear: I am spearheading three high-impact internal strategies that I am solely responsible for. Thus, I am shaping my role to gain maximum exposure and enjoyment, whilst getting crash courses in strategy, marketing and leadership.
Enjoy the ride!
The startup journey is risky yet immensely rewarding. Results can be as tangible as a person demanding you bring your idea to Delhi/London; or a wide-eyed toddler tapping me repeatedly to declare he loves BabyChakra. The hours are demanding: small teams mean nowhere to hide, and no time to sleep. Yet work is no longer another day at the office; it becomes an opportunity to create a legacy, which provides an immeasurable sense of purpose.
Be prepared for the hurdles. My move to Mumbai has been a rollercoaster ride. Setting up a business in India comes with the frustration of spending 15 minutes pitching to a potential customer who then informs me that he/she has neither an e-mail address nor access to the Internet! People promise and don't deliver, or under deliver to a level that can unhinge an entire event that the team has worked tirelessly to execute.
The key thing to identify is whether you are ready for the ride. Then focus on finding the startup that is right for you. If you find your rocket ship, get on, and hold on tight. The ride is bumpy, and you may never reach space. Yet, after my first week on my rocket ship, stepping back on that plane to London is the last thing I want to do.
Related articles