In a business world, staying organized and efficient is crucial. That's where a desktop-docked search utility app like OneLaunch comes to the rescue. This powerful tool can revolutionize the way you browse, manage apps, and find information.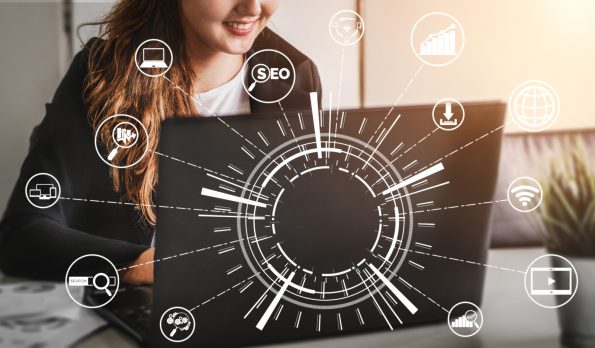 What features enable you to have an intuitive experience with a search utility app? Since not all desktop-docked search utility apps are made equal, there are essential things to look at. 
Features to Consider
Let us explore the top features that make such an app a must-have for seamless and productive online experiences.
Address Bar – Navigating Made Effortless
The heart of any search utility app is its address bar. Seamlessly integrated into the app's interface, this feature allows you to effortlessly navigate the web and access your favorite websites. With predictive suggestions and auto-complete, you'll save time typing and discovering relevant content faster than ever.
App Management – Streamline Your Desktop
Tired of cluttered desktops? The app management feature lets you organize and access your applications with ease. Pin your frequently used apps to the dock for quick access, decluttering your desktop and creating a more efficient workspace.
Bookmark Management – Never Lose a Link
Bookmarks are your digital treasures, and managing them shouldn't be a hassle. The bookmark management feature of our search utility app lets you organize, edit, and sync bookmarks across devices. Say goodbye to lost links and hello to a seamlessly connected browsing experience.
Customizable User Interface – Tailor It to Your Style
Every user is unique, and so should your app's interface. Our search utility app offers a customizable user interface, allowing you to personalize the layout, themes, and even color schemes. Create an environment that resonates with you and boosts your productivity.
Privacy Options – Your Data, Your Choice
Privacy matters more than ever in today's digital landscape. Our app is equipped with robust privacy options. From controlling cookies to managing tracking preferences, take charge of your online footprint and enjoy a safer browsing experience.
Private Browsing – For Your Confidential Needs
Sometimes, you need to browse the web without leaving traces. The private browsing feature ensures your online activities, history, and cookies are not stored, providing you with a discreet and confidential browsing session whenever you need it.
Search Engine – Your Gateway to Information
A search utility app wouldn't be complete without an outstanding search engine. This app integrates a powerful search engine, delivering accurate results at lightning speed. Plus, it's customizable, so you can choose your preferred search engine and tailor your results through the efficiency and innovation of the software.
Conclusion
In a world where digital efficiency is paramount, a desktop-docked search utility app emerges as a game-changer. With features like an intuitive address bar, efficient app and bookmark management, customization options, enhanced privacy settings, private browsing, and a top-notch search engine, this app empowers you to take control of your digital journey. Say hello to productivity and organization like never before – experience the future of browsing with our search utility app.
Don't wait! Try our desktop-docked search utility app today and unlock a new era of browsing efficiency. Your digital workspace makeover starts now.