Ashley Black is best known as the inventor of the FasciaBlaster, a tool that promotes skin rejuvenation, cellulite reduction, and pain relief. Throughout her life, Ashley has experienced many ups and downs with her own personal health, but these experiences inspired her to build one of the fastest growing health and wellness companies. Her innovations and drive earned her Entrepreneur of the Year 2020 by the American Business Awards organization.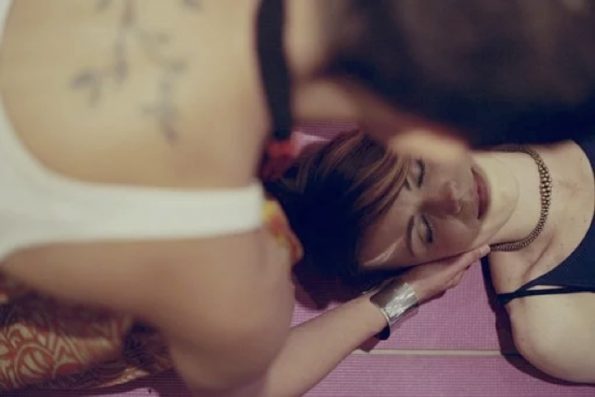 New Year New You 2021 is her thought provoking program that provides education and insight into her revolutionary healing techniques. But first, read on to understand a bit more about why Ashley Black is the right person to help you change your life in 2021
Ashley Black's Early Life
Black grew up in Alabama, and her early childhood experiences played a major role in her work later in life. At a young age, she was diagnosed with juvenile rheumatoid arthritis, or JRA, a rare and serious health condition. Her doctors feared that her disease would be debilitating and would prevent her from having a fulfilling, happy childhood. However, Black was determined to prove all the doctors wrong.
Ashley's natural fighting spirit gave her the strength she needed to overcome her health challenges. She and her family explored every possible avenue for treatment, and they found a number of methods that helped ease her pain and improve her mobility. With hot and cold baths, food charting, stretching, and strength training, Ashley defied the odds and became a competitive gymnast.
In college, Ashley became a fitness instructor for a small gym owned by a man considered to be the strongest person in the world. During this time, Ashley expanded her training and learned from some of the world's greatest strongmen.
Her passion for health and fitness continued after college, too. She worked in nutrition with a prominent weight management company while also teaching fitness classes and training future fitness instructors. She believes her passion for fitness and athletics came from her childhood disability, which was her original motivator to achieve excellent health.
Inspired by a Near Death Experience
Ashley was working hard in a career she loved when her life took a surprising turn. During a hip aspiration, a routine procedure that drains fluid from the hip, a flesh-eating bacteria entered her bone marrow system. This led to severe, life-threatening health complications.
Ashley's family, friends, and medical team were preparing for the worst. As always, though, she was determined to pull through. She survived the sudden sickness, but she was left with serious damage to her hip, spine, and pelvis. Previously a fitness instructor at the top of her game, Ashley was once again facing a life of chronic pain and limited mobility.
Ashley Black is not the type to give up on herself. Although she was facing a grim medical prognosis, her determination overpowered her pain. She traveled to India to receive custom-made pelvic implants, which greatly improved her mobility.
Searching for Healing Around the World
Her trip to India inspired Ashley to travel around the world in search of self-healing. Not only did she want to heal her physical ailments, but she also wanted to find healing and purpose in her pain.
During Ashley's travels, she gained immense wisdom from a wide variety of cultures. She learned of traditional remedies that date back thousands of years as well as modern healthcare technologies. She finally discovered a combination of treatments that helped her regain many of her physical abilities. Most importantly, Ashley found her passion for researching and developing new healthcare solutions for others.
The Medical Mystery: Fascia
Ashley Black's research inspired her to focus on fascia, a relatively unknown body system. Fascia is a type of body tissue that plays a role in cellulite and contributes to pain and mobility issues. For many people, fascia is one of the root causes of chronic pain, movement problems, and other ailments.
When Ashley began studying fascia, she soon realized its importance in her own story and in the experiences of others. She spent hours poring over medical journals, and she traveled the world once again to consult with experts. All of this research contributed to her self-help method, which has now helped countless others manage their chronic pain.
Developing the FasciaBlaster
The FasciaBlaster is the result of Ashley Black's tireless research and development efforts. Fascia blasting is an at-home treatment that loosens up the tightened fascia tissue to help you feel and look better.
Ashley and her team worked on the tool for many years before it hit the market. They owe their success in part to a man who visited her clinic who had survived lymphoma. After he received the treatment, he became a strong believer in its effects, and he had valuable connections who helped Ashley turn her ideas into a prototype.
The FasciaBlasting tool went through a few revisions to reach perfection. At this point, many athletes had used and vouched for the treatment, and it was time to market the tool to the general public.
Ashley saw the benefit of social media messaging to market the treatment, so she launched a Facebook advertising campaign to explain the benefits of FasciaBlasting. After a small group of users tried the tool with great success, its popularity skyrocketed.
Dedicated to Education
Ashley has now sold more than a million units in her product line, and she owns one of the fastest-growing private companies in the U.S. She has a large, loyal social media following and is committed to educating others about fascia blasting and its benefits. Her first book, "The Cellulite Myth," is a national bestseller.
Ashley also uses her blog to educate the public on fascia, using the Fasciablaster, and skin regeneration. In her 10-part blog series, she explains a number of important topics relating to skin and tissue health, including collagen, stem cells, and cellulite. Not only is she passionate about the benefits of fascia blasting, but she also wants her readers to understand the science behind the treatment.
New Year, New You is yet another way that Ashley promotes her health and wellness goals to the public and she wants you to join this year and experience the life-changing program for yourself. To broaden the perspectives, this year she is bringing in her personal coaches. They are all expats that have found their way to Costa Rica, one of the most energetic healing places on Earth! This year's New Year, New You project focuses on the way we all approach life and health through energy and consciousness!
Although Ashley has faced a number of obstacles and setbacks, she has never lost sight of her goal: to promote health and wellness to the general public. Her brand continues to grow in popularity as more and more people discover the benefits of FasciaBlasting.