Email marketing is one of the most popular channels of communication and information exchange. It can be deciphered from the fact that the number of emails sent and received per day is expected to reach a whopping 347 billion in 2023. Much can be attributed to marketing automation.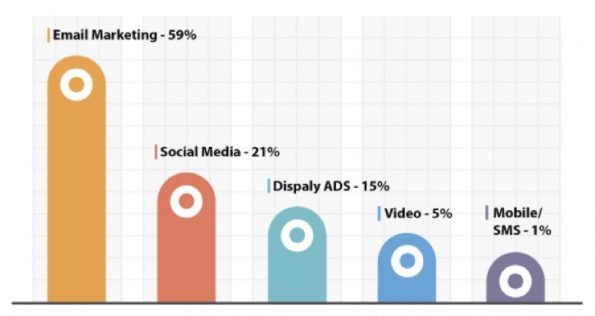 In addition, do you know you can get a return of $44 for every $1 spent on an email? That's the reason 59% of marketers believe that email is the top driver of ROI.
Leading Drivers of Marketing ROI
So, it wouldn't be wrong to say that email marketing is the most cost-effective strategy to increase your audience base while enhancing your sales.
Moreover, with the emergence of automation, email marketing has gone a level up and is helping the e-commerce business grow and thrive. One of the fastest-growing software industries, the global marketing automation spending is likely to reach $25 billion by 2023.
Simply put, marketing automation is witnessing an unprecedented growth. That's the reason 75% of all companies are already using at least one kind of marketing automation tool while 64% of marketers consider email automation the top most used marketing automation technique.
So, if you haven't already jumped in the marketing automation bandwagon, it is high time you do so and give your email marketing strategy a boost. Still, wondering why email automation is necessary for your e-commerce business?
Let's take a look at various ways in which you can benefit from marketing automation. However, before we do that, let's see what marketing automation is all about.
What is marketing automation?
Marketing automation makes use of robust tools to streamline and fasten your routine marketing process in a simple way. From sending out instant trigger emails and following up via email to notifying customers of new promotions and capturing customer preferences through forms, it helps you do it all seamlessly.
Simply put, it manages and takes care of some of the most repetitive and time-consuming tasks of email marketing in an automatic way. In addition, e-commerce marketing automation gives your customer base a consistent and connected personal experience. In short, email automation comes with a plethora of benefits for your business, customers, and your revenue.
Top 7 Benefits of email automation
Now, let's take a look at its various benefits to understand why email automation is important for e-commerce business.
1.   Helps in refining your marketing and sales campaign
Automation tools comprise precisely defined processes alongwith to-the-point reporting features. This helps email marketers in understanding what's working for their email campaign and what's not. As a result, you can easily take corrective measures as and when needed.
2.   Accelerates revenue
Apart from helping you save ample time and money, email automation also helps you make more money out of it. This added revenue is the result of upselling and cross-selling. It can be proved from the fact, where according to Forrest Research, upselling and cross-selling account for 10-30% of e-commerce revenue on an average.
Personalized recommendation is a kind of cross-selling which has the ability to accelerate your revenues considerably. See how Target does it like a pro.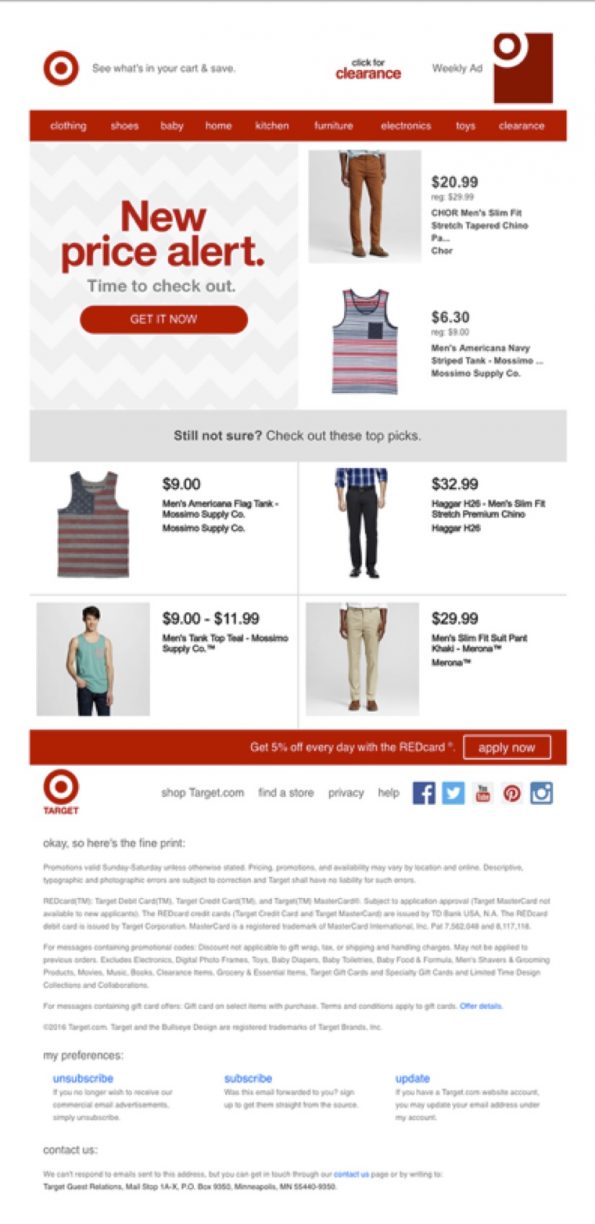 Source: Really Good Emails
3.   Saves lost revenue through the cart abandonment emails
With the average cart abandonment rates being as high as 77.13%, it becomes imperative to fix this issue. This is where email automation comes in handy and helps in recovering most revenues through automated cart abandonment emails.
Do you know the open rates of cart abandonment emails is around 43.3%. The message is clear. If you reach out to your customers with a relevant email, you will get results. You can take some inspiration from the business email template design of Society6 that makes use of cart abandonment email in a good way.

Source: Really Good Emails
4.   Facilitates automatic follow-up with leads
According to a study by Harvard business review, the probability of businesses being successful with leads becomes 60 times higher when they follow-up within an hour. Email marketing automation can help you do the needful. It ensures that you give your best impression on your new subscribers by following up with them right away.
5.   Simplifies time-consuming tasks
Sending emails manually isn't only a tedious but a time consuming task too. It can hold you back from managing more critical matters. This is where email automation can come in handy to increase your productivity while assisting you with smooth task management.
Consequently, email automation can help you distribute your campaigns on the basis of time and various action triggered events such as signing up for your mailing list or abandoning your cart coming from your subscriber base.
From helping you deliver exceptional welcome emails to letting you send relevant cart abandonment email, using automation can work wonders in making the first good impression while restoring your revenue. See how Best Buy uses email automation like a pro in its welcome email.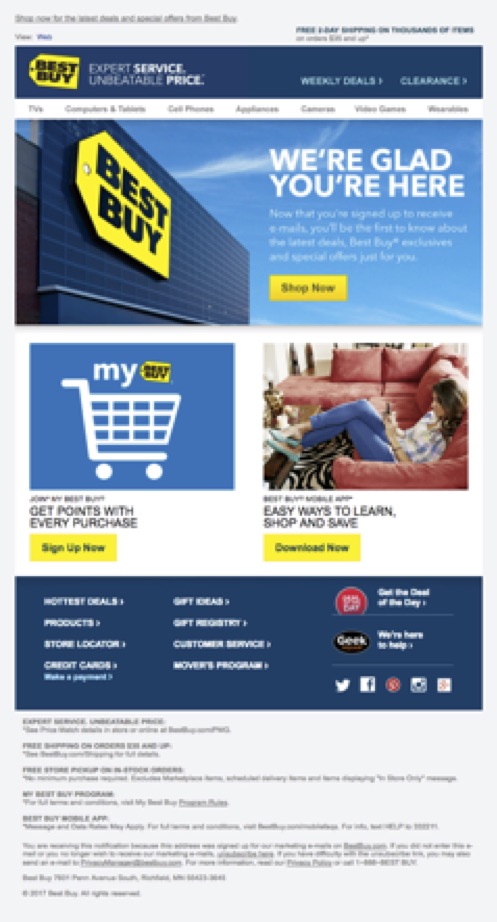 Source: Really Good Emails
Such automated sequence emails are sent through automation by extracting information directly from the subscriber's email address, thereby making the overall feel of the email more natural and less impersonal.
6.   Helps in personalization
Email automation helps in striking a personal connection with your subscriber base by reaching out to them in a way that's unique. You can do so with the help of behavioral triggered emails which help in creating a highly personalized customer experience.
Further, email automation helps you automatically address  all of your emails using your subscribers name, important dates such as birthday and more. It even takes into account the search and purchase history of customers to recommend them products matching to their interests. Take a look at how Uncommon Goods nails its personalized product recommendation email.

Source: Really Good Emails
According to Econsultancy, 93% of companies witness an increase in their conversation rate after giving their customers a personalized experience. So, giving your subscribers such special treatment on their birthdays, anniversaries can have a huge impact on your revenue.
7.   Increases customer lifetime value
44% of consumers prefer to become repeat buyers if they receive a personalized experience from a brand. Email automation does this seamlessly, thereby helping you retain your existing customers while attracting new ones. Moreover, when customers keep coming back to your brand, their customer lifecycle value will increase. This, in turn, will help you build a long lasting and trust-worthy relationship with your customer base.
Wrap up
Email automation can play a great role in the smooth workflow of your e-commerce business. From helping you nurture and engage your leads to improving customer retention, it can do it all.
Further, it can work seamlessly in delivering more traffic to your landing pages and website, thereby helping you become a top-notch e-commerce brand in no time. And if that's not enough, it can even solve your cart abandonment issues while restoring a good percentage of your revenue.
In short, email automation wouldn't only make your e-commerce marketing simple but also help you in powering up your other marketing strategies.
So, go ahead, incorporate marketing automation in your email campaigns and see how you conquer the world of e-commerce business, one automated email at a time. In case you don't have the right resources to help you with your email marketing automation, you can always take help from an email marketing agency providing email automation services.
Happy emailing!
Author Bio
Kevin George is Head of Marketing at Email Uplers, one of the fastest growing email marketing agencies, and specializes in crafting professional email templates, PSD to HTML email conversion and custom Mailchimp templates in addition to providing email automation, campaign management, and data integration & migration services. He loves gadgets, bikes, jazz and eats and breathes email marketing. He enjoys sharing his insights and thoughts on email marketing best practices on his blog.