Kevin Wu, co-founder and CEO of job search optimization program Pathrise, says "Digital marketer roles are some of the most in-demand positions in the tech industry." And he's right. According to a recent McKinsey survey, 83% of CEOs said they depend on digital marketing to be the major driver of growth. Digital marketers promote the company's product or service to their target audience in order to maximize revenue. Is it any wonder they're essential?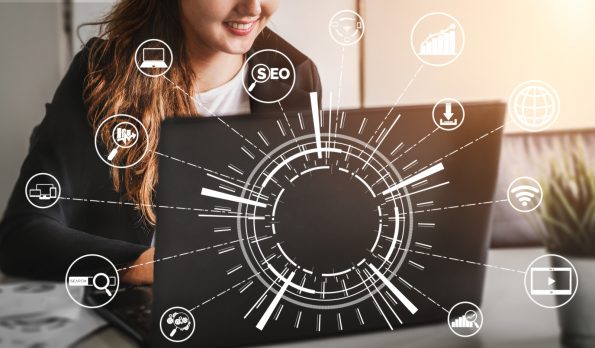 While marketing may sound like the cliche office job, digital marketing is actually far more complex than writing ads in a cubicle. Not only do today's digital marketers need a wide variety of skills, but they also have to identify their niche. It seems every millennial with a keyboard is producing some sort of "content" or "platform" for marketing these days. Of the CEOs surveyed by McKinsey, 27% were disappointed with the marketers they depend on for growth. How can candidates prove their work will help a company grow, specifically?
Content Creation
Most digital marketers will work on content marketing. This includes creating content like blog posts, videos, social media posts, and more. First, marketers create content that appeals to the company's target audience. Next, they optimize the content with keywords to rank highly in the Google search engine results page (SERP). These search engine optimization (SEO) skills are absolutely essential for digital marketers. Content management systems (CMS) like WordPress are used to further streamline the content marketing process. Not only do SEO and CMS skills stand out on a resume, but they can also be demonstrated in a portfolio to further impress recruiters.
Promotion
How do marketers promote a company's content? This is where paid advertising comes in. Paid search engine marketing (SEM) increases a company's ranking in the search engine, getting more clicks. When you Google a keyword, the first few link results usually include a tiny "Ad" icon to show that the content is being promoted. However, how many times have you clicked on a promoted link without noticing? How many searches have been guided by promoted content? This is the power of SEM marketing.
Pay-per-click (PPC) advertising is another essential digital marketing tool. Digital marketers run a PPC ad (like a social media banner) and then only pay when prospective customers click the ad. With PPC, impressions cost nothing. Ideally, digital marketers can optimize PPC marketing campaigns so the conversions (sales) from the ad nets more revenue than the cost of the campaign.
Old School But Effective
Email marketing is another effective marketing technique. A recent e-commerce study found that emails have more than double the conversion rate of social media campaigns. Email marketing campaigns revolve around messaging people who have opted-in to the mailing list, making them warm leads interested in the company. Digital marketers nurture leads with steady content-heavy emails as well as sending one-off promotional emails with calls to action. Marketers write email copy, analyze open rates, review click-through rates, and optimize conversions. While popular email marketing tools like Mailchimp are fairly intuitive, it pays to learn the basics so you can include proficiency on your resume.
Analytics is critical for growth. Tools like Google Analytics and Optimizely reveal key metrics to track campaigns and run A/B tests. This not only shows marketers if their campaign is actually working, but it can help them better reach their target audience. Mastering tools like Google analytics and adding them to your resume will show recruiters you put thought behind campaigns and are willing to correct course.