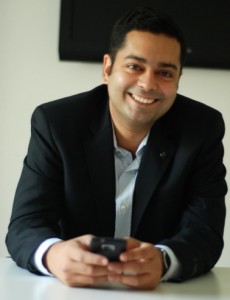 Zomato is a restaurant discovery platform and has a global presence spanning 28 cities across eight countries. My partner Deepinder Goyal and I started scanning delivery menus when we were working at Bain & co. in New Delhi in an attempt to save time while looking for restaurants to lunch at. This soon snowballed into an idea for a business and 'Foodiebay' (as Zomato was then called) germinated from that idea in 2008. The idea rapidly gained strength and in under two years, we rebranded ourselves to 'Zomato', were starting to attract investors and also working on our international expansion blueprint. Currently, Zomato lists over 120,000 restaurants, caters to over 15 million consumers and employs 500 people worldwide.
In the UK alone, we list in-depth information for over 21,000 restaurants, including menus, reviews, directions, opening times, contact information etc. Our mobile app has recently been featured as one of the best new iOS Friday apps and is available across all mobile platforms i.e. iPhone, Windows, Android and Blackberry.
Who is your startup aimed at?
The simple answer to that is – Zomato is aimed at anyone who is hungry!
On one end of the spectrum, the service is directed at consumers who are looking to discover new places to eat. For instance, there are over 18,000 restaurants in London, but people are not able to make an educated decision while choosing a new place to dine at. They don't want to take a risk and end up revisiting the same five places they usually eat at. Zomato offers people exhaustive information, including reviews and ratings on these places so they can make an informed choice.
On the other end of the spectrum, we have restaurants which use Zomato to showcase their brand to the end-consumer. Currently we cater to over 700,000 users in London and this is a massive target audience for restaurants. We track ROI month on month for these restaurants and have an active measurement system in place to help them make the best of their partnership with us.
How does your startup stand out against its competitors?
The consumer internet space is massively crowded. Having said that, in the UK, whilst a number of services cater to consumers in the deals, bookings and delivery space, there is no single comprehensive discovery platform in the information and restaurant space. Zomato's USP lies in the fact that we offer exhaustive and updated information on all the restaurants in the city. Every three months, we update restaurant information and all this is done manually by meeting the restaurants directly. We also have a strong 'vertical social network' offering independent and very relevant reviews from people the user chooses to trust.
Also, we are never, ever complacent about our product. With every new market that we enter, we customise the product to suit that market. For instance, in London, we have introduced new sections like afternoon tea, weekend brunches etc. In the summer we had a section for rooftop venues and the Christmas menu section went live just this past week! It's not been easy – but we have always believed in ensuring that our product speaks for itself.
What is your business background, and what got you interested in startups?
I am a mechanical engineer by education and worked at Bain & Company for over 2 years. Yes, neither of the two has anything to do with the concept of Zomato J. To be frank, I never thought I would start something of my own. When we started Zomato we were doing this as a hobby and before we knew it we could see huge business potential. It was the pure merit of the opportunity, which led us to quit our cushy jobs and jump into the chaos without any safety nets.
How long has your startup been in the making, and who is the team behind the business?
Zomato originated as 'Foodiebay' in 2008, when it was just Deepinder and me dabbling with the idea, while handling our full time jobs at Bain. We continued working on Zomato (then Foodiebay) on the side for 18 months before quitting in December 2009.
Deepinder and I both come from engineering (Deepinder graduated in 2005 and I graduated in 2007), then consulting backgrounds. We had a core team of 5-6 members for the first year, all of whom are still with us and managing their respective teams. It may sound clichéd, but everyone who is (and has been) with Zomato is the reason that we are where we are today.
What has been your biggest challenge so far as a startup owner?
Getting the right people has been our biggest challenge. The growth of the business, the personality of the brand and the firm's culture – all depend on the people who work with you and carry things forward. We grew by 300 people in the last one year and we have still not cracked the talent sourcing problem, I doubt anyone in the world has! The team we have right now, is our biggest achievement. And scaling it up – the biggest challenge!
In the coming year, what would you like to achieve with your business?
International expansion will be the principal focus area. We tend to get bored easily and have an inclination towards setting seemingly impossible targets and testing the mettle of our team. 7 new countries and 15 new cities in under 12 months would have otherwise not been possible. Edinburgh and Glasgow are in the works for the UK, while teams are in Turkey, Indonesia and Brazil currently, setting up shop. The next calendar year will see Zomato getting launched in another 30 cities across the globe.
Securing our next round of funding and growing the strength of our international teams are also on the map for 2014. We have 25 employees currently in London and the target is to touch 100 before end-2014.
If you could give one piece of advice to someone thinking about starting a business, what would it be?
Never start a business because you want to 'start something of your own', or 'be your own boss' – it never works out. Start a venture because you are confident there's an opportunity for it to do well.
Related articles