Bitcoin is one the most fascinating innovation since Internet, capturing the imagination of developers, entrepreneurs, investors, governments and consumers. It is still made up of several complex pieces.
If you would like to be an active actor in the growth of Bitcoin future, you need to understand each piece of the puzzle as possible as you can to find the role you will be playing in this progress. Demystifying bitcoin is not an easy exercise due to the complexity behind it but providing some basic understandings can be useful for potential learners.
What is a Bitcoin?
Bitcoin is a peer-to-peer electronic cash system i.e. the first truly decentralized network for sending and receiving value over the Internet. It is a virtual currency that captures many aspects of security in its requirements. It is a new form of currency that may take off or even replaces existing currencies.
Timeline of Bitcoin
Since Bitcoin's invention in 2008 by Satoshi Nakamoto, several "forks" (modified versions) and derivative cryptocurrencies have emerged. Here are the key dates:
October 2008 – Bitcoin design paper – Satoshi Nakamoto
January 2009 – Bitcoin v0.1 announced
May 2010 – Pizza purchased for 10,000 Bitcoins
July 2010 – Mt. Gox was established as a Bitcoin exchange market in Tokyo
March 2013 – U.S. Treasury issues first regulatory guidance for virtual currencies
November 2013 – Federal regulators, including Bernanke, comment favorably upon Bitcoin at the U.S. Senate hearing.
2015 :100,000 Merchants Worldwide including Facebook, Spotify, Ryanair, Microsoft, Dell, and PayPal accepted Bitcoin
Exchange Volume Distribution
Let's have a glance at the exchange volume distribution of Bitcoin by market and currency. The Chinese Bitcoin market is the most active and the biggest in terms of transaction and market compared other currencies.
Exchange Volume distribution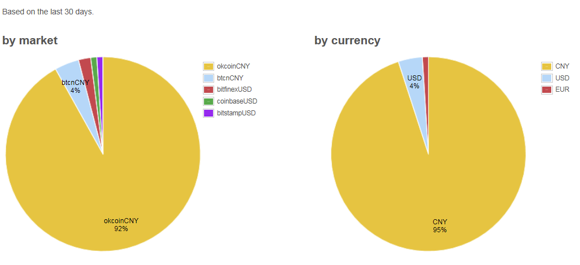 Source: bitcoincharts.com
How Bitcoin Works?
It is a peer to peer network operated by a decentralized authority, unlike government issued currencies. Peers verify their transaction chain by reaching consensus. Bitcoin offers the promise of lower transaction fees than traditional online payment mechanisms.
Bitcoin is a crypto currency, a form of money that uses cryptography which the below features:
Keep users pseudo-anonymous
Prevent counterfeiting (stealing, double-spending)
Proof of Work.
The Blockchain is seen as the main technological innovation of Bitcoin, since it stands as proof of all the transactions on the network
Bitcoin Miner generates new currency at the same rate as a geometric series (50, 25, 12.5 …)
The total amount of currency is capped to 21M BTC
Users have Bitcoin "wallet" (pairs of keys)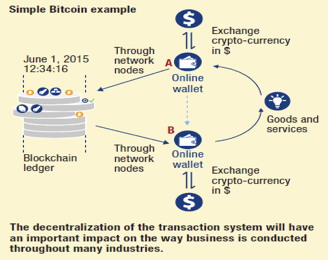 Source: McKinsey & Company
Bitcoin Roles:
Bitcoin as a currency

Ability to pay bitcoin in many markets in China, the United States.
Ability to pay bitcoin for food and other products
Bitcoin as a safe deposit

It is a temporary deflating currency – meaning that the rate will be growing for the next several years.
It is country-agnostic currency – meaning that financial crises or local wars may have minimum impact

Bitcoin as a security asset

Bitcoin is present as a security asset in many European countries.
Bitcoin trading in on high-risk as it is not regulated/guaranteed by governments or authority organizations.
How bank may help?
Create and populate Bitcoin-based securities (using as a currency or financial asset).
Bitcoin Pros:
It is tax free: there is no way for a third party to intercept transactions of Bitcoins.
There is no risk of charge-backs: transactions are irreversible.
Bitcoins cannot be blocked or confiscated: they can only be transferred by the private key owner.
Very high degree of anonymity: wallets use addresses in transactions and these are also privately created.
New payment types: micropayments, multiple signatures.
Bitcoin Cons:
Degree of acceptance: a lot of people and businesses are still unaware of Bitcoin.
Volatility :the total value of Bitcoin and the number of businesses using it is still very small
Ongoing development Bitcoin software is still under development. Some features are being developed to make Bitcoin more secure and accessible.
Bitcoins are still volatile: the price can swing up or down by 10% in a single day.
Possible scalability Problems.