There seem to be never-ending decisions to make when operating a business. Simplifying it all is key. TRUiC helps you decide which choices are right for your business and perhaps filing for a DBA tradename should be one of them.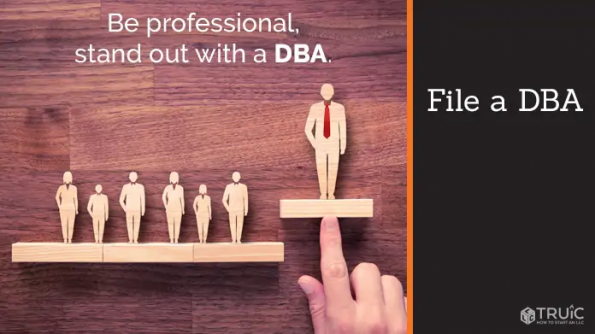 First-off, what is a DBA?
Essentially, a DBA is a tradename for your business. This assumed or fictitious name is separate from your legal name as well as your registered business name. It is an option available to both formal (LLC) and informal business structures. If we break down the letters, DBA stands for "doing business as" meaning you can manage your business as usual under this name. For example if your business is acquiring new partners, and you do not want a list of surnames as your business name, filing for a DBA tradename can help. Or perhaps, your unregistered business of "Sally's Sweets and Savouries" wants to operate under a new name. Your DBA can be created by using an acronym for the current name (SSS), shortening it (Sweets and Savouries) or designing a new name entirely (Yums for Tums). 
How a DBA may help grow your business: 
DBA's are useful for a few reasons:
A DBA tradename can assist with re-branding your business and provide a more professional image.

Filing for a DBA is more cost effective than registering for a legal name change. 

A DBA can help your business target new markets or launch new product lines/services.

There is no need to file for taxes as a DBA is not considered to be a legal entity. 

Unlike the expensive registering for an LLC, registering a DBA is considered reasonable.

A DBA will not incur costly bank fees as a separate bank account is not required.

Read all you need to? Jump to TRUiC's advice on how to

file a DBA

.
DBA's benefit both formal and informal businesses
The advantages of a DBA tradename vary according to the business structure you are operating. Let us break down these benefits according to:
Sole proprietorships and partnerships 

Limited liability companies and corporations
Sole proprietorships and partnerships
DBA's are a popular choice in this particular business structure. This is because they offer a simpler way of managing the business. An inviting advantage is that it allows you to accept and make payments to your trade name's (DBA's) business bank account. Therefore, there is no need to use your individual legal name. You will be permitted to deposit money in or collect payments made to your DBA's business bank account. 
Important fact: DBA's do not provide liability protection for informal business structures. 
Limited liability companies and corporations
A DBA is excellent for established LLCs and Corporations that are interested in entering new business markets. For example, if "Betty's Bakery" (that sells baked goods) was expanding its market reach to sell baking ingredients, acquiring a DBA of "Betty's Ingredients" would help the company launch this new product line.
Reminder: A DBA is

not

a legal entity and therefore can provide no asset protection. 
How to file a DBA
Overall, the process is simple and set out quite clearly. Depending on which state you are operating your business from, the order of things differs. Most states have opted for businesses to simply file with the secretary of state or the county clerk for a charge between $10-$100. Also, it is possible that you may be required to publish a notice in the newspaper notifying the public of your confirmed DBA tradename. The good news is that there are services out there that assist with filing your DBA for you if you find yourself tied up with tasks. 
Tip: Before beginning the filing process, research your DBA to see if your idea has already been registered and if the website domain is available.