Finding the right job management software for your maintenance business is no easy feat. After doing some research, you might have found it difficult to pinpoint what features are necessities and which are not. One thing for certain is that it is vital to invest in the best software which supports both your customers and staff. Ensure that whatever software you decide on, it provides these ten features.
Job Tracking
The ability to track jobs is one of the essential features your job management software needs. Currently, you might be logging jobs manually into a spreadsheet and you are not the only one. A 2017 study by Capterra found that 52% of service companies still manage their business manually. This can be a time-consuming process. By using an integrated online system, jobs can be logged with real-time status changes.
Typically, the ability to price jobs accompanies this feature and allows a user to accurately report on how much is spent and what profits are accrued for each job. These two features are the backbone of your field management system.
Planned Maintenance
Planned maintenance is a proactive approach to take where work is scheduled to take place on a constant basis. For facility management (FM) companies, it can be extremely time-consuming to set this up. For example, your company may need to set up regular boiler maintenance appointments for a specific site. Service maintenance software can help you do this by providing a simple platform to create your own schedules and asset registers. Depending on what type of work your company does, a job management software provider normally tailors their product for your needs.
Scheduling
Any reputable job management software provider should offer an ability to schedule in their software. No matter how big or small your maintenance company is, you most likely need to plan a variety of jobs and quickly identify the correct engineer for each job. A scheduling option makes this process a lot easier than doing it manually via spreadsheets.
Invoicing
Gone are the days of sifting through tons of invoices and wasting precious time trying to understand complex payments. Find a job management software which takes care of invoices for you. Whether you want to create batch invoicing, consolidated invoicing or job-by-job invoicing, your back office can price a job up, then email or print a professionally banded invoice with the right software.
If the provider offers an invoicing service, they will most likely provide a schedule of rates (SOR) feature too. This should allow your company to simply import SOR libraries and add SORs to jobs.
Quoting
At the moment, you might be creating your job quotes on an application like Microsoft Word or into a spreadsheet. A job management solution which provides a quoting feature makes it a lot easier to set up a standard process for quoting customers. Also, it allows you to share quote information between your colleagues. Everyone is kept informed of financial decisions, and there are stronger business relationships.
Asset Management
Managing your assets can be a pain in the neck when you do not have the correct system in place. An asset management feature should allow your company to survey, record and maintain equipment at multiple customer sites. Having a job management system in place for assets not only improves your company's productivity and organisation but creates a stronger bond between colleagues.
Purchase Order
Another critical feature which your software needs is the ability to create purchase orders. Ordering materials and parts for individual jobs is essential, especially for reactive maintenance, however, it can get confusing. Your service management provider should integrate purchase orders with supplier invoices to stay punctual with schedules and maintain customer satisfaction.
Customer Portal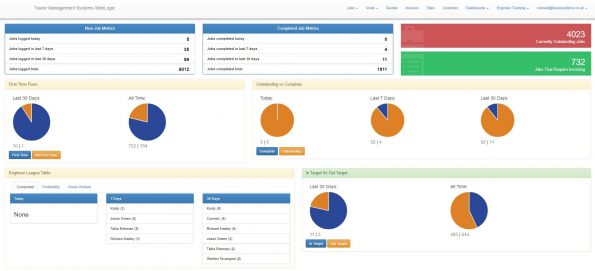 This feature really allows your company to stand out from the business crowd. If your job management software offers this, you are able to give your customers online access to their data. Joblogic is an example of a provider who offers the Customer Portal feature to their clients. With an insightful portal, customers have constant access to their data, know when an engineer in on-route to a job, can view online asset registers and access job reports. In a world where customer satisfaction means everything to companies, this feature will boost your company's reputation significantly.
Mobile Engineer App
To keep in touch with modern times it is expected from businesses to provide users with software functionality across multiple devices. This means being able to operate from a computer, tablet and mobile device at the same time. A mobile engineer app allows your back office to connect with field engineers. Hence you create closer communication within your business. Typically, this features offers functions like deploying jobs to engineers, monitoring status changes and the ability for your company to stay compliant with every job.
Mobile Engineer Tracking
If you rely heavily on a mobile application being used in your business, you will definitely enjoy a mobile engineer tracking feature. Without the proper system in place, it is easy to lose visibility and contact of engineers. This leads to a decline in productivity. A feature like this should allow your business to use live GPS tracking to track your engineer's location and a tool which allows you to view the historic whereabouts of an engineer.
Overall, if your service management software choice provides all ten features shown here, you can feel confident in knowing that you are investing in a worthy product. Getting the most out of your management system benefits your business greatly so take advantage of any webinars, tutorials or guides which your provider may offer.