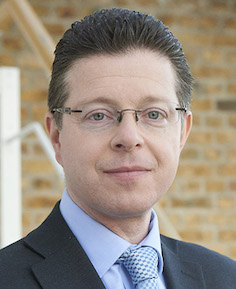 Preface: We speak to David Bresnick, Corporate Partner at specialist technology firm, Cooley, about their arrival here in London, launching Cooley Go and their vision for how they are going to help support the London startup and emerging company scene. David also discusses the most  common legal struggles of startups and why law needs to be a higher priority for first time entrepreneurs.
What types of startups do you support?
We have a particular specialism in the technology and life sciences sectors.
When do you usually get involved with startups?
At all stages - but typically at seed capital or Series A VC stage.
What are your motivations behind involvement in this sector?
At Cooley, we are involved at various stages of the development process of companies , but we like to get involved at the very early stages of an exciting tech business and to support businesses through their life cycle as they grow, raising capital, expanding, acquiring and eventually exiting. Cooley Go is aimed at supporting startups and early stage businesses/founders, in particular. It was initially launched in the USA in 2014 and launched in the UK in September 2015, and it is open to anyone. People who use it do not even need to register with an email address.  It is simply a resource available to help startups.  Within Cooley Go, there are a number of basics that will help businesses understand and navigate the legal aspects relevant to them much more easily. We just want to extend our support to the ecosystem.
What reception have you seen towards Cooley Go so far?
It's all been incredibly positive.  A great reception from the legal press, and most importantly our clients and good friends.
In what ways is the London Tech scene different from Cooley's home in Silicon Valley?
There are a number of differences between London and Silicon Valley.  The first big difference is size and how long the London tech hub has been here for. London is clearly the main financial hub of Europe - which is great - but has only really taken off as the European tech hub over the last 5 or 6 years. Governments don't often get things right, but local and central government have done a great job of promoting and supporting London as a tech hub. Obviously this is not Palo Alto. This is not the Bay area, which is a simply huge area. We can't do anything about the geography - it is just large, as is the number of the VC firms that are active there and relative availability of funds.  It's a deeper and bigger funding community with more participants.  More players, and therefore more winners.  A lot of people think that while London has catapulted forwards in recent years, it is still a good decade behind the West Coast.  But there is no one else in Europe that is going to grab hold of the tech hub label.  And it is growing super fast.  And that is what everyone is excited about.  A large number of West Coast investment houses, and corporates, are now investing in London. It has become the destination outside the US. The tax regime has helped. That's why it is exciting to be so heavily involved in tech and for Cooley to be in London.
Are there any legislations in place that don't really support startups?
In the UK, there is various legislation that helps encourage and facilitate the entrepreneurial movement, such as entrepreneurs' tax relief which can entitle entrepreneurs to only a 10% tax rate on sale. There is also SEIS, EIS and other tax schemes which provides a more friendly environment for investors and businesses investing at an early stage, compared to other countries in Europe such as Germany and France. The UK also has a strong stock exchange and the excellent and very international alternative investment market (AIM) is well suited for fast growing tech businesses. But, in my view,  it really is the tax changes that have helped change the mindset over time.
What are the most common legal struggles of a startup?
Startups usually think that legal advice is not a priority - for their time or budget - and that legal work is not a priority in the earliest days. I totally understand that - but startups need to put legal assistance a bit higher up their list. Many entrepreneurs have a different outlook the second time around and understand that the right legal framework is not just about document creation, but actually helps a business grow/ raise money/be successful.
Startups often experience problems with their IP, with respect to what it is and who owns it. IP protection can be pretty easy, if tackled at the outset. Often a startup may use an outside company to develop their product for instance, the outside company may be under the impression that they have some ownership share of the IP and this can cause conflict later and complications when a VC performs diligence and quickly wants to know exactly who is the owner of the IP.
The second problem that startups often encounter is offering too many people shares in the company, which often goes unrecorded. Startups can get too complicated too quickly. The last thing a VC wants, especially in a small investment round, is too much complexity. Let them focus on the business.
What excites you most about the working in technology?
I love that it is fast moving sector, and that even very young companies can quickly become disruptive or game changers - and that we can apply our experience, and help organisations grow and succeed.
Cooley allows companies to get credibility in the market place, and can also help make connections with the US and UK VC community. The companies that come to us do so because they want to be with a firm that is with them from seed capital through to a hefty valuation.  Of course this is not the story for all companies, but we want to be seen, not just as lawyers who bash out a few documents, and send out a bill - but as experienced business advisers who are with our clients for the journey.