In today's world of digital transformation, it certainly pays for individuals to build a presence online. Whether you're looking for a platform to open your blog up to the world stage, or are interested in making your business more visible, creating an engaging website that's easy to navigate and interact with can be an essential step. However, for many of us, turning our ideas into a reality can be easier said than done. 
For many of us, knowledge of coding isn't a natural strength, and the development process of getting a website up and running can be an early stumbling block when building our brand online. 
Whilst many users take to platforms like WordPress to create websites from the platform's selection of templates, the comprehensive presence of this web development firm means that the designs you choose may appear generic–with other users from across the internet using the same template.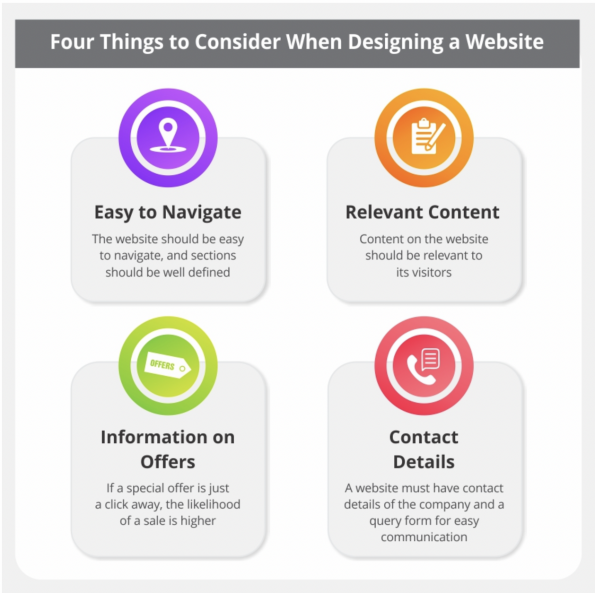 (Image: Tata Nexarc)
As the infographic above shows, there are a number of different aspects of web development to consider when building a website. Whilst navigation is essential, other factors like content creation, lead generation through offers, and well-positioned contact details are all important factors to incorporate. 
Let's take a deeper look at some of the important factors that should be weighed up before getting started in building your website: 
Consider What your Site will be
What will your website actually do? Why do you want to build a presence online? You might have a small business or a sole trader company that you wish to open up to a wider audience, or you could be a blogger who simply wants to build your own platform to share your insights. 
All too often, websites can fail by trying to do too much at the same time. Build your website with your goals in mind, and make sure all of your additions work to serve their purpose. 
Consider your Target Audience
Although it seems counterintuitive to design a website that's refined to suit one particular audience, it's simply impossible to build a site for 'everyone'. Use your research or a fundamental understanding of who your audience is to create a website that suits their needs and ambitions. 
Make your Website Responsive for All Visitors
Remember that many users are likely to navigate to your website via their smartphones, rather than a desktop. Although this may seem pretty obvious, it's easy to lose track of this when working on creating your pages solely through a browser. 
Be sure to make your pages mobile-friendly, and seek to use AMP (Accelerated Mobile Pages) to deliver better compatibility.
Keep Content in Mind
No matter the purpose of your site, it will be populated with content. Be sure to utilize a design that complements the tone of your content, the messages it will convey, and the subject matter that it will cover. 
Always Remember SEO
There isn't much point in creating and maintaining a website if Google can't find it. To conduct search engine optimization on your website doesn't simply mean to add the right keywords at the right time, you also have to make your page easy for crawlers to navigate. This means that you should make your pages easy to navigate and always include a sitemap for ease of reference.
Building your Website
So, you've decided on the type of website that you want to create and hold a strong idea of how you're going to populate your pages. What's next? 
Now the time has come to begin creating your website. Although this can be a daunting part of the process, there are many tools available to help the many of us who aren't blessed with a strong knowledge of coding. 
Platforms like Powered Template can be an excellent resource for utilizing premium quality website designs without resorting to the more generic array of options on platforms like WordPress. 
As we can see from Powered Template's selection of website designs, there's a healthy range of options that span various sectors, including business, commerce, magazines, and photography. Furthermore, there are many designs available for the creation of online portfolios. 
Powered Template also features stylistic options like minimalist designs and landing page templates. The website's intuitive menu also allows users to whittle down their options based on compatibility with different web frameworks like HTML/CSS, WordPress, and JQuery. 
Let's take a closer look at one of Powered Template's designs. One of the useful aspects of Powered Template is that all users have the opportunity to review designs using a star rating system, which can help others to quickly spot the highest rated options available. 
Another great function is that Powered Template websites come with a 'Live Demo' feature which empowers users to view their website design in formats suitable for desktop, tablet, and smartphone to try it out for themselves first-hand. 
Powered Template also includes a compatibility section to accompany designs, which displays the different languages that the design can work with. This is an essential consideration for when it comes to making your design ready to go live. 
Additionally, all of Powered Template's website designs are premium quality resources, which means that users will need a subscription in order to use them. Fortunately, Powered Template is very flexible with the suite of subscription models it offers–and even features an 'on demand' function for more pay-as-you-go downloads. 
As we can see from Powered Template's pricing structure, users can sign up to a 1-month subscription for $19 to access their website template – with a cap of 100 downloads per month, this can empower you to populate your website with additional graphics and animations that are showcased throughout the site. 
The best value for money comes from an annual subscription, which weighs in at $99–working out at around $8.25 per month. 
When it comes to website development, Powered Template stands as a great resource that allows users to download pre-designed and 100% editable templates that are far more unique than their WordPress counterparts. This can embolden users to make their site their own and reach the right audience in a more impactful way.