One of the major disadvantages that small businesses experience is low budgets and a lack of resources required to promote their products and services. But thanks to digital marketing, the playing field has been leveled. And with access to the right digital marketing tools, small businesses can take on the big boys and their huge marketing budgets.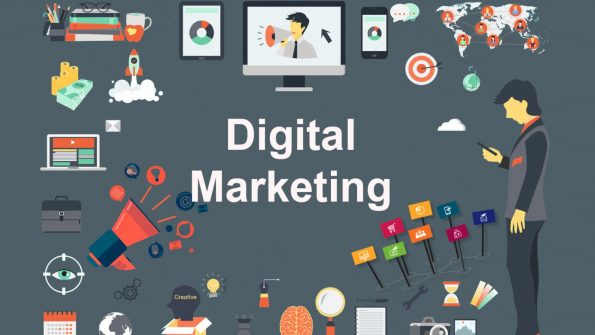 In this article, we're going to look at some of the best marketing tools and services to help your business, including software to help with design, messaging, and email newsletter campaigns. We'll also look at tools that help pinpoint customer behaviour and see what people are searching for online.
Take a look and see which of them is ideal for your business.
HubSpot Marketing
HubSpot is great for combining your marketing channels into one and optimising them. You can optimise content and landing pages, use email templates, take advantage of analytics tools and use it to manage your social media.
The full version isn't cheap, but the basic free package is highly recommended if you're trying to run a host of marketing campaigns and are struggling to make them work together. But it's a comprehensive set of digital marketing tools.
Slack
Slack is a really efficient way for staff in your organisation to message each other. It works by allowing you to set up specific channels assigned for certain departments, so discussions don't get diverted or cut off.
It's a great collaboration tool and is incredibly easy to use. It lets you share projects and search through your message history, too. It's also highly integrated with a host of well-known software tools, too, making your digital marketing campaigns simpler to run.
Ahrefs
If you're serious about SEO, Ahrefs is definitely one tool you should consider. It lets you look at who is connecting to your rivals, what their top-performing pages are, and find out which keywords will work best for your brand.
Google and other search engines constantly measure how trustworthy and authoritative your website is, so backlink analysis has never been so important in the world of digital marketing tools right now. Ahrefs is a powerful SEO tool that will help you boost your site traffic.
Google Analytics
At its most fundamental level, Google Analytics can give plenty of information on who is visiting your site, from where, and on which pages they're looking at and spending most time on. Not only that, but you can also find out the keywords customers are using on search engines to find you, and the time of day they're doing so, too.
Google Analytics is the best-quality level for website analysis, and it will also help you improve your marketing and website campaigns. Oh, and it's free, which is another plus.
Canva
Not a top-end designer? No problem! Canva lets you create impressive visuals with the minimum of fuss. Whether you're looking to design an eye-catching infographic, memorable social-media post or a complicated data-led graphic, Canva gives you that option.
Image editing is straightforward, and you have a host of fonts, text options and colours at your disposal. Canva offers a stylishly satisfying, straightforward approach to create your own logos, introductions, pictures and charts.
BuzzSumo
Buzzsumo is a great little tool that tells you what's trending on various social media formats. And once you know what's popular, this can help you write about the things that people are interested in reading. It's one of the digital marketing tools that helps make your business more efficient in the process.
Not only that, but you can even find out what's popular on your own website, and see who is liking and sharing your content. Knowing the key topics that are trending is essential to make an impression with your content marketing, and BuzzSumo helps you do that.
MailChimp
Emails should be a big part of your marketing campaigns, and Mailchimp is one of the best email tools on the market. It can schedule and send out emails automatically, manage email lists and give you useful feedback on how effective your emails are.
What's good about Mailchimp for small businesses is that it's free provided your subscriber list stays below 2,000, so in the early days it's a valuable tool to have.
Hootsuite
Hootsuite is ideal if social media plays a big part in your content marketing strategy. The drawback of social media is that it takes a lot of time and effort to make it run smoothly, but Hootsuite gives you a main platform for your channels so you can see at a glance what is being posted on a particular day.
It allows you to schedule posts, too, so you can get social-media content planned for the next seven days all in one go, which is a very handy feature. Not only that, but Hootsuite includes reporting tools, too, so you can find out which campaigns are working the best.
KWFinder
Search engine optimisation is one of the core online marketing disciplines – it is therefore very important that you do it right. Getting your website optimised by search engines is a complicated and technical process, but with a marketing tool like KWFinder, you can easily get the job done.
One of the main tasks is keyword research, and KWFinder lets you try out various keywords. For each one you put in, you'll get a huge number of suggestions, along with useful trends and data to help you hone your keyword selection.
These effective digital marketing tools will all help to boost your small business. The choice is yours which ones you use, but each one is an effective way of helping your brand or website grow. Good luck!
This article was written by Chad Harwood-Jones, founder of leading copywriting agency, WooContent.