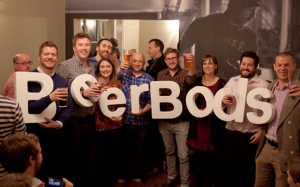 BeerBods is an online beer club and subscription service, based in Worcestershire. They have just become the fastest pitch to fund on Crowdcube, the world's first (and largest) equity crowdfunding platform. 101 investors put in £150,000 in 36 hours, overfunding the pitch by 150%. Of these, many were existing subscribers passionate about the product. They include a senior executive at innocent drinks and a former vice-president from Morgan Stanley.
BeerBods was started in September 2012 by Matt Lane (now 28). "My aim is simply to get more people drinking better beer" he says. Matt does this via an online club where members pay £36 every quarter to receive a case of 12 different craft beers. Subscribers drink the same beer (just one) every week and come together to talk about it online. "The power of the internet and a bit of clever logistics means our subscribers are discovering, learning about and enjoying each beer together" explains Matt. The community grew to 1,000 subscribers in a year and now has over 1,500 members.
Matt made a profit in year one and has just raised £150,000 on Crowdcube from 101 investors for a 22.5% stake: "The fact that so many of our customers got behind our Crowdcube campaign demonstrates just how special our business and our craft beer community really is. The customer was always at the core of our service, but now they are owners too."
Dan Germain, global head of brand and creative at innocent drinks is an investor and subscriber: "I invest in businesses whose values I believe in, and whose founders inspire me. I first came across BeerBods as a regular consumer, and have been a subscriber for a while now; I love the idea of getting the best beers in the world sent right to my door. Matt Lane has a genuine love for what he does, and I was impressed by his clear pitch and his ideas for extending the business and brand in the immediate future."
Another backer is Hilary Fitzgerald, business consultant and former vice-president at Morgan Stanley who says, "I've been a customer since near the start, so when I heard that Matt was equity crowdfunding I grilled him about his business plan and he impressed me. BeerBods has a great product; great communication with its customers; and a clear, but agile strategy for increasing its market, and creating the infrastructure to support that growth. With Matt at the helm, backed by his trusted advisors, I believe that BeerBods can deliver."
Luke Lang, co-founder of Crowdcube is also a fan: "The way BeerBods has engaged with its customers to raise finance, and develop potentially powerful relationships with prominent and influential business leaders through the process, is a great example of how it makes sense for a community-based business to turn to crowdfunding. With such a high-calibre of support behind them I am sure they have a great chance of success."
Matt plans to use the investment to scale the business (including adding overseas members), as well as developing more products and services. He's working with Warwick University's incubator programme on a feasibility study for his export plans to identify which markets and what strategy will be best.
Related articles