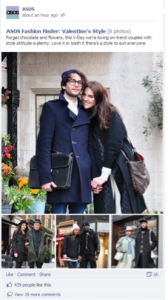 ASOS stands for 'As Seen on Screen' and is intended to be a place where consumers can go to find fashion pieces that resemble what  their favourite celebrities are wearing. Immediately it becomes ever relevant and so all the really have to do is cast their net and draw in their customers; Something that they've done so well that celebrities now look to ASOS for styles that are on trend. Of course there are many companies that do a great job on their social campaigns but I can think of few that target so many to such good effect.  Here's how ASOS Fashion utilise social media to reach their consumer base.

Facebook remains the king of social networking with dedicated fan and business pages for you to promote yourself. With ASOS, their next visual update is never more than a few hours away, whether that's a hot offer for people that follow their page or a question that's intended to engage their customers. They're relentless in their consistency, posting daily and even taking the time to responding to questions and comments. The beauty of this kind of customer engagement on a platform like Facebook is that it resonates through the community.  The Facebook algorithms work in such a way that puts the pages users are engaging with in front of their friends as they have a vested interest in keeping users on site for as long as possible. Getting this right can result in you being seen by the masses. It's important to remember that the most engaging pages are visual so try to bring this dimension to your page, even if it means talking about industry movements rather than your own products.
If Facebook is the king of social, it's fair to say that Twitter is the queen. With more than 140m active users on the platform there's a lot to be gained from using it well. Like on Facebook, the next tweet from ASOS is probably moments from going live. They tweet about new releases, offers and drive engagement by requesting for users to interact with them. ASOS aren't shy about sharing their engagement. They can often be seen retweeting comments, images and videos that are sent to them which means that for the engaging consumer their tweet has the potential to reach the accounts of a ton of likeminded users. As good as twitter is, it can be a tricky platform to get off the ground. Lots of companies try and gain followers by mass following users in the hopes that they will reciprocate, however we think its best to follow key individuals with a genuine interest in your offering.
Being a very visual company, ASOS have capitalised on this through the Pinterest, the picture platform that's becoming increasingly popular by creating visual mood boards. Their mood boards contain anything from nail art to men's watches and of course celebrities that are sporting their designs. Possibly the best part about Pinterest is the fact that any image that is posted can be traced back to the site that the image was pinned from making it great for product placement and site traffic.
In terms of positioning yourself well in the eyes of the world's number one search engine, there are few ways better than to drive user engagement on their social media network. Google+ was a huge investment for Google and though it didn't take off in the way they expected, there's still plenty of value in being active on this network. It's difficult to see why consumers would use this social site when they can get everything they need from the others, however ASOS do a great job of drawing attention on Google+ by posting fresh content a couple of times a day, much in the same way that they do with their other sites. One thing that's worth noting is that the content they post on Google+ is unique to that social site meaning that there's exclusive content to be seen by following them on there as well as the other platforms.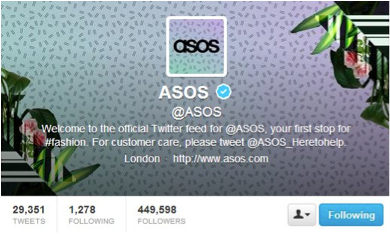 When thinking about your online visibility the social aspect is very much a determining factor in how successful you ultimately become. We know this is true because web search companies like Google are beginning to take notice and consider social interaction when they provide results to a customer. For them it's about providing the best user experience and so companies that are seen to be interacting with customers are held in high regard. Something that alone can have quite a profound effect on your business.
This article was written By Akin Fagbohun who is a researcher and content writer on behalf of ASOS, retailer of men's and women's clothing, boots and more.
Related articles