Do you get anxious just thinking about job interviews? They can be nerve-wracking. Job interviews in the marketing sector are particularly anxiety-inducing because the competition is intensive, and unless you sell yourself effectively in the interview questions, you might not stand out from the other interviewees. You want to give your upcoming interview your all — demonstrating your confidence, insight, reliability, and how in-tune you are to current industry trends.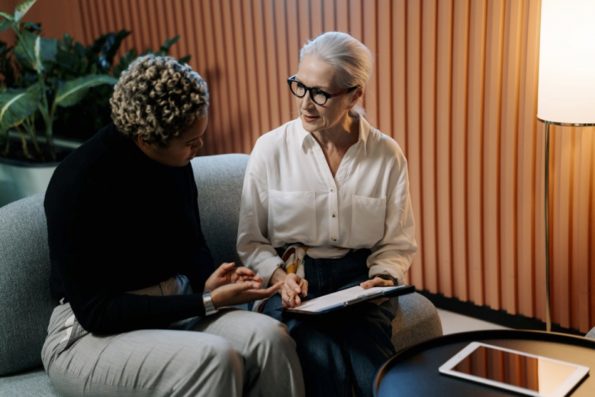 You know your stuff and know that you can present yourself in this light during the interview. But if you're like so many other interviewees out there, you may struggle at the end of it when the interviewer asks, "Do you have any questions for us?"
Some hiring managers view this as one of the most pertinent interview questions to ask during the interview. They want to see your sincere interest in the position and that you're eager to know more about it. Furthermore, an interview is a two-way street. You'll want to learn as much about the role as possible to see that it fits your needs. If you're not sure what to ask, don't worry. Read on to discover questions that are sure to impress any marketing manager.
What Would A Typical Day Look Like?
This question allows the interviewer to dive into more in-depth detail about the position. While job descriptions give you a basic outline of what you'd be doing daily, they don't always get into the role's finer points. Ask the interviewer to elaborate on anything you're unsure of so you'll have a better idea of what to expect. You'll also want to ask how you engage with other team members. For example, what's the collaboration between the Public Relations team, and how often do you interact with the upper management team?
Is There Room for Growth?
Hiring managers love to hear this question because it shows that you're interested in staying with the company and moving upwards. They'll see it as determination and that you're genuinely excited to work there.
What's The Office Culture Like?
Let's face it; when you spend eight hours a day at an office, it will get pretty dull without a little socialization. You're looking for as much work-life balance as you can get. You'll get a better sense of how the company values its employees when you ask about the office's overall culture. Office culture can make all the difference when working for a company, so you'll want to ensure that it's the right type of culture for you and your lifestyle.
Work with a Recruiter
Are you still wondering how to confidently ask and answer interview questions for the job of your dreams? Your best bet is to consult with professional digital marketing recruiters who can help you find your ideal position. The right agency will provide access to exclusive job opportunities that you wouldn't see on other employment platforms, and they'll give you helpful interview tips.
When you're on the employment hunt, preparing for upcoming interviews becomes a full-time job. Knock those hiring managers' socks off by ending the interview with your own set of questions that will make a lasting impression. Before you have time to send a thank-you email, you'll be signing an employment contract.