If you have a retail store in a shopping centre or on the street, you have a lot of competition. Not only are you competing with the other businesses around you, but you have the looming spectre of the online world to worry about too. It's vital that you do your best to attract customers, leading them into your shop and eventually to making a purchase. Much like selling a house, one of the biggest factors in getting people to come inside is the image you present from the pavement. In real estate, this factor is referred to as "curb appeal". By giving your customers a good first impression, you start off on the right foot. Of course, you need to continue pleasing them once they get inside. But getting them through the entrance is that all important first step. Here's how to start getting more people through the door.
The Sign
Arguably the most important thing about your shop's exterior, next to the window, is your sign. Your choice of sign can have an enormous impact on how people view your business. If it looks too cheap, too formal or just too boring, people could be put off. The first job of your sign is to let people know who you are, so it needs to not just have your name, but to have your business's name in a legible font. A curly, cursive script might look beautiful, but if people can't read it then you may as well not bother. There are lots of different choices for your sign's design, from neon ones to plain wooden ones. You'll see many options in sign shops in Texas and elsewhere if you want to browse for some interesting ideas. Before choosing your sign, make sure you check for any permissions or permits you need from the local council.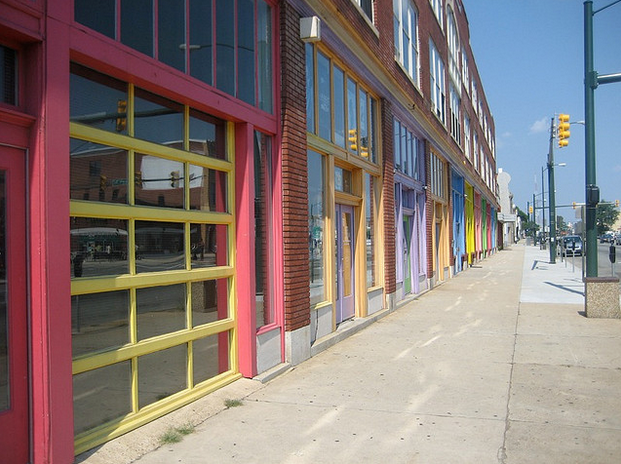 The Window
Unlike the rest of your shop front, your window display won't stay the same for very long. You should change them as often as you can afford to although the period will be different for everyone. Some businesses might change theirs every few weeks while others could go several months without a change. Your displays should show off your products, but they don't have to give customers an idea of every single thing that's inside. Try to keep them clean but creative. You can have a lot of fun with your windows, changing them with the seasons and as you get new products coming in. Bold shapes and colours, lighting and even moving parts will get people to stop and pay attention as they walk past.
The Facade
You won't be changing the facade of your storefront as much as the window display. You need to pick something that will reflect your brand and serve as an advertisement for your shop from down the street. Your sign will be a more permanent part of the exterior than the windows, so think about how everything will come together. Will it blend in with the other shops on the street or stand out as something different?