In today's world of constant stimuli and distraction millennials are experiencing the highest levels of any generation. This demographic is known for its drive, a stronger sense of purpose in the workplace, and high expectations, and it is reportedly paying for it in stress. We all need to take a minute to step back and relax – and new app QuietKit wants to help us.
The American Psychological Association's 'Stress in America' report revealed in 2015 an average stress level of 5.1 out of 10 in the U.S. The millennial demographic recorded the highest stress levels, at 6 out of 10. Furthermore, 45 percent of Millennials claim their stress levels have risen in the last year.
The report also claims that more than 1 in 4 young adults (Millennials and Gen Xers) say they do not feel they are doing enough to manage their stress. Experts recommend combatting stress through exercise, reducing work, maintaining a healthy diet and lifestyle and talking to others. They also point to relaxation techniques such as yoga, massage or meditation.
QuietKit founder John Turner believes that by providing free guided meditation for beginners people can reduce their stress levels. Here, he explains his personal journey and how he aims to help others, with the transformative power of meditation.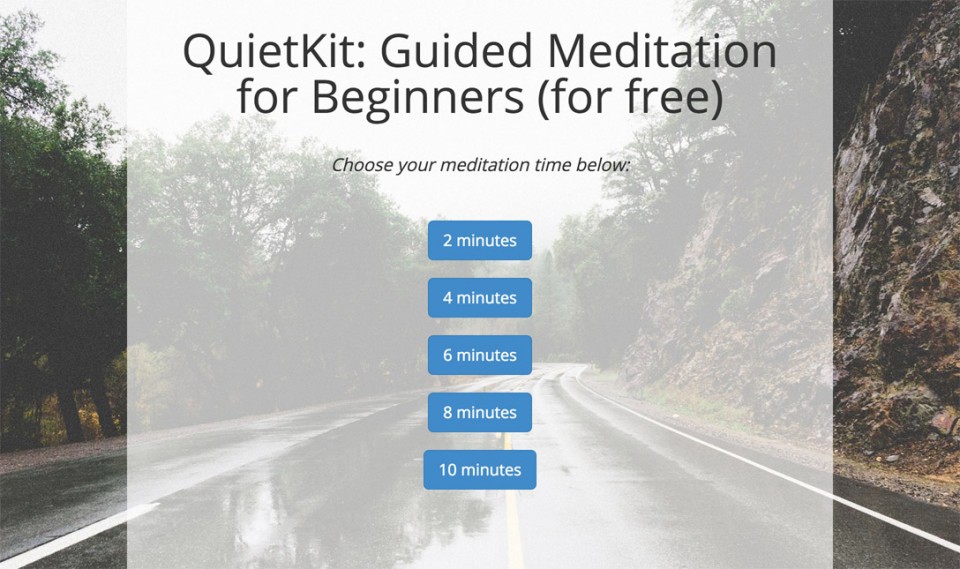 What is QuietKit, and how does it work?
QuietKit provides guided meditation for beginners for free. The tool starts with the basics, clearly explaining to users how they can get the most out of meditation and mindfulness, with a simple guide.
Users simply visit the site, select the length of meditation they'd like to start with, close their eyes, and listen to the guided meditation, as they focus on their breathing. No sign ups, nothing to install, and no payment needed; the website is designed to be straightforward and simple, so users may begin practicing immediately, and start to build a meditation habit.
What was your personal story behind the creation of QuietKit?
I had been dealing with a lot of stress at my other company, UsersThink, and I was looking for ways to reduce this. I became more aware of meditation and mindfulness, and wanted to try it, but I struggled to find good resources for the beginner level. 
Much of the information available was incredibly dense, or you had to pay to use a website or app, before really understanding the benefits of the practice. I saw a large opportunity to create a tailored tool, for free, that many people could use to understand the basics, and QuietKit was born.
What trends in this industry excite you?
It's exciting to see a growing amount of support for mindfulness and meditation as more and more people become aware of it. That's in addition to the growing amount of scientific research showing how much meditation benefits those who practice it.
QuietKit aims to help those looking to give meditation a try, and we're hoping that audience will grow.
What are your plans for future growth and development of your product?
Trying to make connections with people interested in learning and practicing meditation, and listening to them so we can improve the product even more. We are also building longer meditation sessions that users will be able to purchase.