Looking for an eye-opening read on the Health industry? Amigo, sit down. I have so much to tell you about!
Remember last week's article on Grants4Apps?! (Here) Well, half of the story was missing.
Quick refresher: Grants4Apps is the start-up accelerator from Bayer. Cool thing is that being an open innovation platform, their strategy is to facilitate collaborations between Bayer and other start-ups or companies while supporting innovation. Let's make it clear from the beginning: They are not an investment fund NOR have followed a financial objective here.
Now to what was left unsaid:  Grants4Apps has actually a second program which is called the Dealmaker.
It functions as a matchmaking platform between Bayer and other institutions like mature start-ups, companies, research institutions and universities. It allows these institutions to acquire Bayer as a customer!
Bayer employees from different departments have elaborated a list of challenges that they face in the Healthcare industry as a whole or for a particular disease. This list includes challenges in topics such as:
Hemophilia
Women's health
Pulmonology
Ophthalmology
Nephrology
Artificial intelligence
Data analytics
Clinical trials
And many more!
Grants4Apps is now looking for the institutions that have a solution – already developed and functional – for these challenges.
Once you check the challenges available and you apply, here is what happens: if your project is among the pre-selected ones you'll get an invitation to the Dealmaker day. During that day, you will have the opportunity to pitch your solution to Bayer representatives of several departments. You will be able to discuss and negotiate collaboration deals and if it is a match: you close the deal with Bayer. Deadline for applying to this program is June 30th!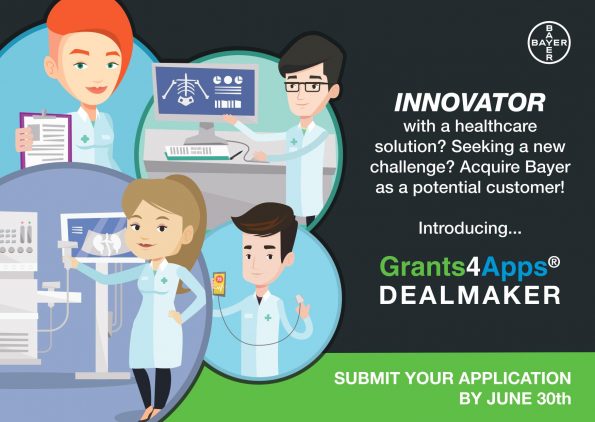 Last thing you need to know: On June 14th, Grants4Apps is organizing an open day event for you to meet the Challenge owners and get more details on the challenges and the Dealmaker program. This event will take place at the Bayer HQ in Berlin but if you do not live there, they will stream live the event for you! Check it out on Facebook or on the Meetup page.
Want to know more about it? Stay tuned on their website, Facebook page and Twitter!
Also, subscribe to their newsletter through their website and get the latest news about the accelerator!