The ongoing pandemic taught us that we could continue with our lives by working remotely.  According to flexjobs.com, more than 39 million people in America are working remotely this year alone, and this number will increase in the future. A Gartner report states that 80 percent of company leaders are going to take the plunge. So, with most of the world working from home, working remotely is the new normal. We could not have survived without innovative communications tools.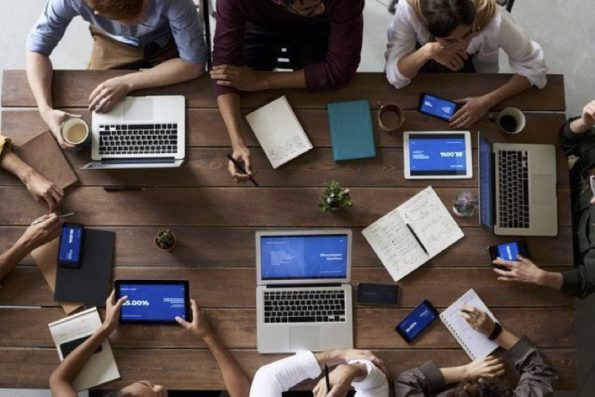 While there are many benefits to working from home, for starters, a positive environmental impact being one of them, there are some cons too. For one thing, remote work isn't possible without the correct set of communications tools at your disposal.
Sometimes, collaboration and communication come off as the biggest struggles for remote workers due to the lack of face-to-face communication. The MIT Sloan Management Review believes that overcoming these challenges is fundamental for a seamless online workplace.
Fortunately, specific tools are designed to help streamline business communication and bridge the gap between employees and their companies without being physically present at the workplace.
An excellent example would be services like GetVoIP can help find the best and most reliable VoIP providers for specific businesses with personalized quotes and reviews.
Here's a list of communications tools designed for optimizing business communication.
Fuze: According to research, employees switch between different applications more than a thousand times a day. And while it might not look like much, the seconds add up, and productivity decreases.
Like its name, Fuze is software that offers several features at once. You can call, video conference, instant message, and share documents all in one place. The tool lets you upload and share files during video calls, and its whiteboard feature is an excellent way to organize your thoughts.
Apart from being secure and reliable, Fuze can also host up to a thousand participants for a meeting – so for larger conferences, it is excellent. The application is available in multiple languages for global businesses.
Proof Hub: For project-based businesses, there is no better option than Proof Hub. The software offers several tools under one roof to help you collaborate with several teams simultaneously.
Managers can review several documents at the same time to keep an eye on the overall progress. Since the software is cloud-based, workflows are updated on the go, and you won't have to worry about installing any additional tools or services.
Proof Hub offers synchronization with popular cloud services like Dropbox, Google Drive, Dropbox, and FreshBooks. The pricing is also quite reasonable.
GetVoIP: GetVoIP offers user reviews and pricing, and personalized quotes on the best web conferencing services on the internet. Businesses use this service to compare and choose which services serve their business goals the best.
According to the size of your business and your budget, GetVoIP can help you select the best VoIP service for you. In addition, you also get round-the-clock customer support. The best thing about GetVoIP is that it's free and holds the most extensive database for web conferencing services for all sorts of businesses.
Filestage: Another great project management tool, Filestage, is an excellent fit for creative teams. The software has all the communications tools that can make the online working experience fuss-free. It is an all-in-one proofing software with lots of options to help streamline feedback and approval of work.
Filestage has won several awards for Best Ease of Use in 2020. It works best for marketing teams and media companies. Teams with specific regulatory requirements can use the standardized review process to improve the quality of the work. Filestage is used in 195 countries by 530,000 users since 2015.
Zoom: The software became popular after the covid-19 lockdown, and its founder was named the Time Person of the Year. Even their website says that they are leaders in modern video communications.
What makes Zoom popular is the ease of use. Even though some features like recording interviews and replaying them need some fine-tuning, another advantage is that the basic bundle is free without any hidden charges. So, you can give it a go and see if it works for you.
Chanty: Chanty helps users boost productivity with a seamless onboard experience. This software works across several devices and platforms with an intuitive user experience.
Users can share content such as GIFs, YouTube videos, and Social media content without switching between multiple apps. Chanty also makes it easy to pin ideas and share codes to get updates. Like other apps, Chanty also offers video calling and voice messaging features to users.
Donut: While working from home is better for the environment, it can make people feel lonely without day-to-day interactions. Donut is software that helps bridge the social gap between your team members.
Donut helps introduce teammates via direct messaging to build camaraderie. You can host happy hours or remotely grab a coffee with your colleagues. It also integrates with other business communication tools like Slack. The best news is Donut also has a free version for small and medium-sized teams.
Google Documents: Google Docs has always been ahead of time. It is an excellent resource that works well across all platforms. One of the best features about Google Docs is its interface – no-frills and functional.
Being a Google service, it integrates well with Google Drive, giving you one-click access to all other Google services you'd be using on your smartphone. Multiple users can use the service at once, and documents are editable and shareable. The automatic save feature saves the trouble of having to hit Ctrl S all the time.
The all-around compatibility feature gives Google Docs an edge over all other productivity software. Google Docs is free. If you don't need the extra bells and whistles of Microsoft Word's processing delays, Google Docs is the best option for your communications tools.
Conclusion:
Every business is different and so are their needs. So, make sure you think through all the aspects of your business before deciding on one tool. Look for a program that is easy to use, brings your team together, and manages your workflow.
We recommend taking advantage of free trials and demos of your communications tools as much as possible before you buy the full, paid versions.