Although getting injured is not something that you probably expect, accidents happen. Even if you spend most of the time in front of the computer screen, you could slip and fall, or you could spill hot coffee on your pants. You might go to Nevada to make some money, only to later need a personal injury attorney in Las Vegas. It is impossible to predict all the things that could go wrong. In a second, you'll learn about the things that you should do when such an accident occurs at your workplace. Let's go!
Time for first aid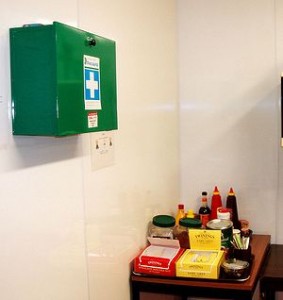 First aid training in the workplace is mandatory, which means that you should know what should be done in a situation like this. If you don't know how to help the person that needs help, then it is a better idea to wait until the qualified specialists arrive, rather than to try helping on your own. What's most important, no matter how serious the injury, you should avoid panic. Otherwise, it will be significantly more difficult to help the injured person. 
Call 911
Once you have administered the first help to the injured person, it is time to call 911. If the accident that had taken place at a workplace is serious, then don't think twice. It is better to be overzealous in this regard than to hesitate. No one will blame you if you overreact to an injury that doesn't require the help of a specialist, whereas the lack of the necessary decisiveness could lead to terrible consequences.
Secure the area
Depending on the cause of the injury, it might be necessary to secure the place where the accident had taken place. You should warn other workers not to get close if there is a chance that someone else might get injured as well.
Report
When an accident happens, you might need to report it to other parties, like government institutions or unions. You should talk to the people who have witnessed the accident and write down their accounts. On top of that, take photos of the scene. Lack of properly reporting the occurrence could lead to severe fines being imposed on your company.
The investigation
After you've gathered all the necessary evidence, you should analyze the data. What was the cause of the accident? Was it due to the lack of foresight on the employees' part, or was it caused by a lack of safety in the workplace? Depending on the answer to this question, your company could be sued for a lot of money. The essential part is to be truthful, as your company won't be the only party conducting the investigation.
Implement changes
If you want to avoid similar situations occurring in the future, you should consider implementing appropriate changes in the workplace. Sure, if your employee spilled hot coffee on his lap, then there's no need to outright ban coffee in your company. It would decrease the productivity of your employees and decrease their morale. If the accident happened due to unsafe working conditions, then making sure that the workplace is perfectly safe would help you avoid losing millions of dollars in the ensuing lawsuits.
A training
If the accident did not happen due to negligence on the company's part, but because of the irresponsibility of the employee, then scheduling training to avoid similar incidents would be a good idea. You should show your employees that you care about their physical well-being and hire a professional that would show them how to remain safe in the workplace.
Accidents happen
Though you might think that your workplace is perfectly safe, there are many factors that could cause accidents to happen. Lack of sleep causes cognitive performance impairment, which could make otherwise responsible people trip on stairs or fall off the ladder. If such a situation occurs, the last thing that you should do is panic. Following a previously created protocol will make it possible to avoid chaos. After the injured person is helped, either by coworkers or if the sustained injury is serious, by professionals, it is time to make sure that a similar situation does not occur in the future.