Family law firms handle a wide range of issues, including divorce, adoption, and other family affairs. While the demands for these legal services remain high, so are the number of legal service providers handling these cases. The legal market has thus become saturated with service providers facing marketing challenges.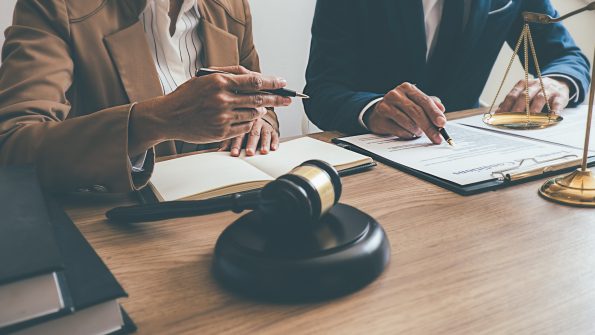 This may sound new to some, but legal marketing isn't a new concept. Decades ago, law firms' contact details were listed in the Yellow Pages. Sometimes, attorneys made their presence felt in printed advertisements, such as newspaper ads and billboards. But the online space has completely changed how legal organizations carry out their marketing strategies.
Below are a few of the clever ways family law firms can keep up with these advancements:
Hire SEO and Content Marketing Professionals
Boost your firm's online presence by creating business accounts in online channels. Prioritize platforms with the greatest number of subscribers and one that's related to your legal practice.
For family lawyer marketing efforts to be effective, learn the basics of search engine optimization (SEO) and content marketing. These activities encompass activities such as creating content, as well as checking and analyzing your firm's site performance, among other technical works.
SEO and content marketing should go hand in hand, especially for law firms that are establishing their presence online. Optimization helps improve the search rankings of your family law firm, which, in turn, allows you to expand your reach.
Fresh companies should use SEO and content marketing to increase brand awareness and get some leads. This is by no means an easy feat as the Internet these days is filled with billions of pieces of information competing to get user's attention. Hence, consider outsourcing your legal marketing services to a company that you trust. To know more, read this helpful Dagmar Marketing's law firm SEO guide.
Create A Variety of High-Quality and Targeted Content
Family lawyers are great communicators. If they're good at defending their clients in court, they sure can flex their writing skills, too.
Before uploading articles, ask for insights from your webmaster about your audience behavior and demographics. After finding out the most interesting topics related to family law and the highly-searched keywords, have your family law attorneys write a blog or create diverse types of content.
However, your law firm shouldn't stop at uploading written articles. Create videos, infographics, and podcasts, too. You can also offer free webinars to increase web traffic and attract more potential clients.
Don't worry if your lawyers don't have time to do it since you can outsource content marketing as well.
Appeal to the Emotions While Sending Clear Messages Across
Marketing isn't purely based on logic. To be more effective at turning potential customers into actual clients, you need to appeal to the emotions.
Nowadays, a buyer's journey starts with an online search. This includes looking for Family law legal services. When hiring legal professionals, a client will most likely look for a seasoned lawyer. And, seeing that family matters are not always easy, the firm and its staff should also be seen as reputable yet empathic.
As a family law defender, you might bear witness to the ugly side of divorce, spousal support, child custody, and other legal battles. It's important to show compassion being part of your firm's identity.
At the same time, your brand should focus on sending out clear messages about how your family law firm is different from others and how you can provide unique and added value that they couldn't find anywhere else.
Traditional Marketing Still Works
Digital marketing is the new buzzword since a few years ago. But this doesn't mean that traditional advertising is dead. Conventional and digital forms of marketing are still both useful in getting additional clients.
Hence, besides applying sound SEO techniques and content marketing, your firm can utilize the good, old flyers and brochures distributed in strategic areas. Place these informative papers in mailboxes or in establishments where people converge. Consider placing a Light Emitting Diode (LED) sign or a billboard in malls, markets, and other places with high traffic.
The downside of traditional advertising is that it's more pricey than digital marketing. The results are also difficult to measure.
Create Your Referral and Lead Generation Systems
Estimates reveal that more than 800,000 divorce cases are filed every year. Additionally, about 135,000 children are adopted in the United States during the same period. These figures reflect the high demand for family law firms, and there shouldn't be too much pressure on firms to attract clients, right? Wrong.
About 100% of individuals seeking legal services for family law firms start with an online search, making online visibility paramount to legal practice.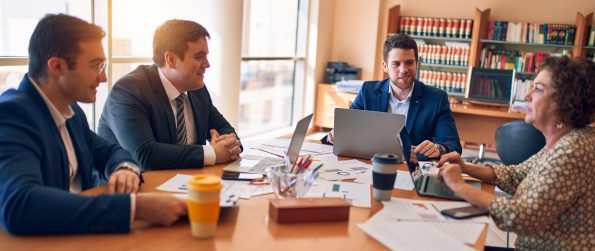 Satisfied clients are a great source of referrals. Ask your clients to post their reviews on your website or on any third-party review sites. While you may think of them as 'competitors,' some of your colleagues in the legal profession can also be a source of referral.
With the advent of technology, it's easier to manage details about potential and existing customers. That's what customer relationship management (CRM) is here for, so consider installing one.
Network Online and Offline
Expanding your network is useful in your marketing efforts. Be active in your professional memberships, whether law-related or otherwise.
Meeting as many persons as possible can open doors for more opportunities. Family law covers many subjects outside of divorce and adoption. It also encompasses issues like visitation rights, pre-nuptial agreements, guardianship, and distribution of assets. That being said, your co-member, a relative, or family member may soon need legal advice or representation for a case. It's great if your firm becomes the first thing that comes into mind if they need help.     
Measure, Evaluate, and Improve on Your Marketing Campaign
This activity should be recurring. With digital marketing, there are available tools to analyze your website performance, conversion rates, lead close rates, vis-a-vis marketing strategies.
Even email marketing strategies can be measured digitally through click rate, bounce rates, and acquired leads.
Metrics for social media apps, meanwhile, are almost the same, but with the addition of number of followers. The efficacy of your firm's landing pages is quantified by looking at time spent by the user, number of page views, and number of unique visitors, among others.
Put simply, digital marketing is a measurable undertaking, whichever platform you choose to tap for your campaign.
Final Thoughts  
Family law firms need to revisit their marketing campaign if they want to experience better online marketing results. Online platforms typically have analysis and evaluation functionalities to make your webmaster's job a breeze.