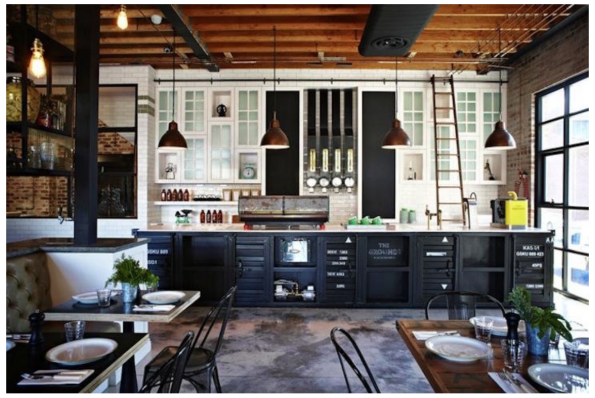 Image Source: http://inhabitat.com/the-grounds-cafe-is-a-thriving-vintage-throwback-to-the-pre-gmo-era-in-australia/
It is quite popular for first-time business owners to pick a café to be their inaugural adventure. There are a number of different reasons for this. Generally, profit margins are quite hefty. You don't need a lot of fancy equipment or expensive produce to sell high-quality coffee and sandwiches. If the location is right, customers will come through the door all day, and market competition is rarely intense.
The business model is a simple one and this is why so many first time owners take the leap and try their hand at running a café. However, simple doesn't always mean easy. To keep revenue high, standards must be exacting and the premises needs to be inviting and comfortable all year round. In a country like Australia, where the climate is pleasant, there is no excuse for not offering customers both an interior and outdoor dining space.
This guide to the essential investments that you need for a successful café business will help you get started.
1. All Weather Blinds
One of the easiest and most stylish ways to create an attractive outdoor space is with the use of All Weather Blinds. These sturdy, colourful coverings form a semi-permanent area that is perfect for sitting, drinking, dining, and socialising. They are entirely weather-proof, so will keep your customers protected from the sun, wind, and rain.
2. A High Traffic Location
It is worth holding out for a location that sees heavy foot traffic. The best places are those where large numbers of people spend a lot of time waiting. A good example is a train or bus station. Public parks and municipal areas are great too, as are business and industrial parks which can bring in a surprising amount of business. Cafés rely almost entirely on the walk-in trade; after a while, you'll start to see familiar faces, but most of your customers will be new ones. 
3. The Right Kind of Building
You don't have to own a sprawling space to make a café business successful, but it is important to match the service to the size of the building, cabin, or kiosk. If you're in a relatively quiet location, you'll need to sell food to keep your profits up. However, an adequate amount of prep space is essential. Don't forget that you can always extend your dining and drinking area by adding outdoor blinds.
4. High-Quality Equipment
The tools and equipment needed to run a small café are fairly simple. They include a high powered coffee machine, a coffee grinder, a dishwasher, a griddle, a toaster, and so on. Some items will be significantly more expensive than others, so it is a good idea to factor this into your budget when starting out. Make a note of how long each device is likely to last so that you don't get caught off guard when something costly breaks down.   
5. Licences and Permissions
It is absolutely imperative that you have all of the necessary licences and permissions in place before you open up the business to paying customers. This is particularly important when it comes to food hygiene and safety. You cannot serve food without having your cooking areas inspected and approved first. For more advice on the type of permissions that you might need, get in touch with your local council.   
Why Outdoor Blinds are a Stylish, Practical Choice for Cafés
Weather resistant, outdoor blinds are a great investment because they allow café owners to extend the capacity of their premises without having to commit to costly construction projects. Plus, they come in a wide variety of styles and colours, so it is easy to find a product that perfectly matches the décor of your business.