Printing has become a necessity of every business today, therefore, it becomes necessary to have a good quality of printing as it makes the first impression on your business. Sometimes you have noticed that the print quality on documents is not the same as it appears in soft copy, because the document has some font problems, color issues, spacing, and alignment issues. Digitalization has many limitations. Improving print quality does not fix these issues, but changing minor issues in the printer can make things right.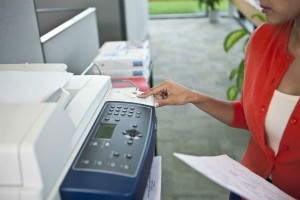 This article focuses solely on the quality of printing – how we can achieve this. Here are simple solutions that can solve the above problems and improve print quality without major changes to the printer.
1. Regularly clean the printer and service it
Frequently use and lack of maintenance deteriorate printer quality, usually printers suffer from dry ink when they are not in use for a long time. The dried ink blocks the ink nozzle.
So at this time, it is necessary to clean the printer and ink cartridges because you will remove all the particles that spoil your quality. No sophisticated products are required to clean your printer – you can clean your printer with any soft cloth or cotton swab.
If you are cleaning your printer yourself, make sure that no other parts of the printer are damaged.
2. Print in High Resolution
Do not print at low-resolution as it causes loss of a lot of information from your important documents as the quality of your printer is reduced due to its low resolution.
Therefore, to overcome this problem you need to set your printer to as high-resolution as possible. Because by choosing high resolution you can improve the quality of your print.
3. Choose the correct driver for your printer
Another reason for low-print quality is choosing the wrong driver. Some printers have specific drivers that support its features and control how the device works.
Choosing an incorrect driver can cause many problems such as blurred images or smoothing, in the process, you are just wasting your ink.
Therefore, installing the correct drivers can reduce the risk of errors. Sometimes you are using the correct driver, but still, the quality is not so good, so try to update your driver to enable all its features.
4. Keep the printer safe from the elements
Electronics items are highly affected when exposed to moisture, dust, extreme temperatures.
Because of this, your printers do not work properly and you may sometimes have equipment failures. Therefore, keep your printer away from other devices that generate heat.
Follow the manual guidelines that come with your device as to how you should use the device and where it should be placed.
5. Take care of your Ink and Toner cartridges
Ink causes major quality problems, so we should use it properly. Because unused ink dries over time which leads to issues in print quality.
Therefore, you need to take care of your toner. Do not keep it under extreme temperature or sunlight as it can cause irreparable damage which can affect the quality of your printing.
Always choose a certified vendor like inkjet wholesale to buy toner cartridges as the local ink consumption is high and the quality of printing is low.
Conclusion
Printing is a requirement of every business, so it is our responsibility to maintain its quality because these small things can cause big problems. Improving printer quality can lead to the success of your business. We wish that all of the above methods will definitely help improve the quality of your printing and bring success to your business.