Businesses need to effectively market their products and content if they want to gain more customers and spread their brand. However, marketing can pose many problems, so finding the best marketing automation tools for your business can help you out. If you don't know which automation tools to pick, then we have some online tools suggestions for you to consider.
These are the four best marketing automation tools that can help your business.
As the name implies, Omnisend empowers online merchants to grow through omnichannel marketing. Omnisend offers marketing automation that allows you to bring your biggest channels under one roof and create a unified, seamless message. This way,  you can focus on sending the right message to the right customer on the right channel, no matter where they are in their customer journey.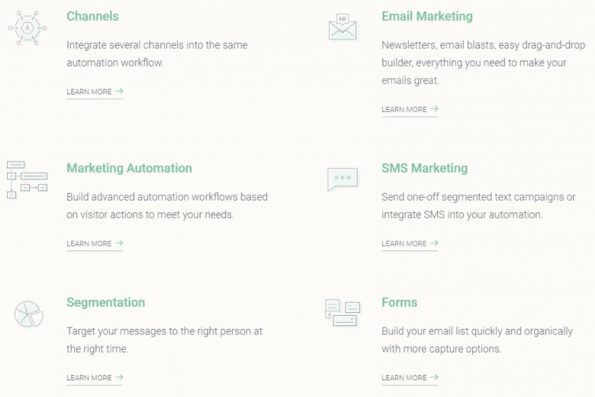 As you can see above, Omnisend is a very complete platform offering a variety of online tools.
Integrate your channels to create a seamless customer experience.
An easy-to-use email builder to create your own campaigns.
Automation workflows to target the messages sent to your customers.
Targeted SMS marketing campaigns to send quick and critical messages.
Segmenting your audience to create an always relevant message.
Forms so that you can organically and quickly build subscriber lists.
Omnisend offers a 14-day trial so that you can try it out for yourself. You can also start as low as $16 a month on their Standard plan or $99 a month for the Pro plan to get free SMS credits.
SendinBlue focuses on finding the right timing for your emails and other messages. This will help you to encourage customers to follow through with your calls-to-action (CTAs). that you end through your emails. SendinBlue seeks to do this by focusing on three areas: communicate, personalize, and convert.
Communicate has you focus on the channels used to communicate with your customers. Along with other channels, it focuses on email, SMS, and chat bots. Personalize focuses on meeting the needs of customers by developing relationships and sending automated messages. Convert uses ads, retargeting, and sign-up pages to get you more leads.

SendinBlue provides different payment options based on the amount of emails that you send. For example, you can use their Free version online tools if you send no more than 300 emails a day. Each of the higher tiers also offers more features. Feel free to look through these options to see if you can find one that will work for your price range.
ActiveCampaign puts heavy emphasis into email marketing while providing some other tools to help you out. They seek to improve your customer relationship management (CRM) so that people will develop stronger relationships with your business. As you use their messaging and sales automation tools, you can increase your overall relationships and profits.

This image shows different features that CampaignMonitor offers through its marketing automation tools. Each one focuses on optimizing your marketing so that you can increase your profits by using them.
Email Marketing: get better results from your campaigns.
Marketing Automation: optimize your marketing while adding goals.
Sales & CRM: work more effectively with your customers and leads.
Messaging: Provide different channels that your audience can use.
Machine Learning: Help you to predict data and trends.
You can request a demo from CampaignMonitor to see how the automated system works. You can get different prices for each of the payment tiers, which goes as low as $9 a month. This all depends on the features you want alongside your number of contacts.
HubSpot takes a different approach from the rest by offering a variety of marketing automation tools that you can pay for. Each one provides different features that you can use for your business while giving you the option to get them all in a bundle. This way, you can just pay for what your business needs.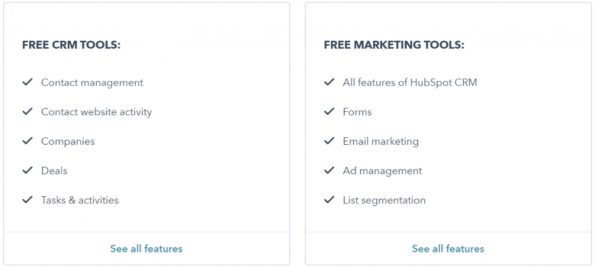 As this image shows, you can use some of their marketing and CRM tools for free so that you can start integrating automation into your business. HubSpot also offers other online tools that you can pay for if you want them.
Marketing hub to improve emails and leads.
Sales hub to improve deals, quotes, and meetings.
Service hub to meet customer needs.
You can pay for each hub separately or you can get all of them by starting at $50 a month. This gives you more flexibility with your payments so that you can pick and choose the exact hubs that you want. Due to the price, this makes HubSpot a good option for larger businesses.
5.   Final Comments
Since marketing poses many challenges online, you can use these marketing tools to assist you. This way, they can automate many parts of the process for you, saving you time and money in the long run. Feel free to look over these four online tools and pick one that will benefit your business, help it grow, and make marketing easier for you.