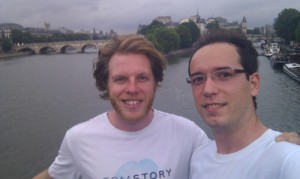 This Week I have been lucky enough to interview Tom Savage, a successful entrepreneur running Social Enterprises about his latest start up 3Desk.
1)What is 3Desk?
3Desk is a marketplace for quality, local freelancers. By 2020, it is estimated that over 50% of the US workforce will be temporary. Yet no marketplace exists for people who work face-to-face. There are excellent platforms like Elance or PeoplePerHour for remote workers.

We're focusing on people who work 'in-person' – people like designers, engineers working on oil rigs, doctors, development experts etc. Many jobs require work 'in person' and many more employers and freelancers prefer to have some human contact.
We're even seeing a massive influx of users from places like India and the Philippines – it's interesting to note that whilst many people note a trend toward remote work, we're seeing a desire by freelancers to reconnect with real people.
2) Is 3Desk your first start up?
No. I've been starting things up successfully and, of course, unsuccessfully since I was in my first year at university. I guess I've got a short attention span. I love the challenge of turning ideas into reality. There's huge satisfaction in taking a concept that you think can make a difference and breathing life into it.
Some of the initiatives I've worked on include:
a) Blue Ventures – I started BV straight after university with my friend Alasdair Harris, who's still running the company and leading it from success to success in some of the most challenging parts of the world. I'm incredibly proud of the work Blue Ventures does and it has won an amazing number of awards for its pioneering work alongside local, indigenous fishing communities around the world.
Al is now one of the world's leading conservationists, winning the Young Conservationist of the Year in 2010, amongst other prizes. I'm in continual awe of Al's tenacity and dedication to that cause and chuffed to have helped him breathe life into the organisation for the first few years that we were partners.
Remember that starting things up is important, but also building, growing and staying with them is quite another and is something I don't have as much experience with. Entrepreneurs often get the credit for a business, but there are many more silent heroes.
If you're ever looking to take some time away from the rat race, the Blue Ventures expeditions are life-changing – offering participants a chance to spend time in totally unique projects around the world and taking part in groundbreaking conservation efforts.
b) Make Your Mark with a Tenner (now Tenner) – I helped a friend Oli Barrett start this whilst I was working on the Social Enterprise Campaign on behalf of the Cabinet Office. We gave 10,000 school children £10 and challenged them to spend a month seeing how far they could take just £10. It's been an amazing success over the years, demonstrating how amazing kids can be. I focused on trying to drive the awareness of the social and environmental impact of their initiatives, something which the kids seemed to understand instinctively.
c) Bright Green Talent (now no longer operating) – With a professor from my business school, Paul Hannam, I started this environmental recruitment business. Our aim was to become the recruiter of choice for companies looking to hire sustainability talent. We grew fast, opening offices in London and San Francisco before the recession hit. It proved a hard decision, but I'm pleased we decided to pull back from that business. I'll explain…
3) Where did the idea for 3Desk come from?
The kernel of the idea for 3Desk came from my time running Bright Green Talent. I quickly learnt that recruitment is a difficult game. Many people resent working with 'traditional' recruiters, who often charge exorbitant fees and can be aggressive. I felt there was a better way to help companies find talent. Businesses are run by people and talent is possibly the most important element of any business. It's very important, but often badly run.
The development of the idea came from talking to two of my friends and is explained in this blog post – http://blog.3desk.com/two-freelancing-friends/. I noticed that many international agencies, like the UN use very expensive consultants and waste money. I also saw very talented friends without work for significant periods of time because they were employed, or unemployed. I felt there was a better way – a method to find and connect people to the talent they need, as and when they need it.
We've big ambitions to be the place to go to help organisations find any temporary talent they need. We want 3Desk to be the eBay of talent.
4) Does 3Desk have a social aim?
Absolutely. I wouldn't have started 3Desk if it didn't. Again, this blog post talks a bit about our social and environmental mission – http://blog.3desk.com/why-3desk-the-first-blog-post/
Quite simply, I feel the world of employment is too black-and-white. People are either unemployed or employed and organisations tend to use full-timers or expensive consultants, without much of a mechanism to help people in the middle. I want to see a world where people are able to work when they want. I'd love to help break the over-work, status-driven culture that seems to be infecting the world at present. It would be fantastic if people who are unemployed could pick up little pieces of temporary work to help them back on the ladder. I f people could choose their schedules, it might enable mothers and fathers to spend more time with their children, for example.
Internationally, I'd like to build a solution that works for the informal labour economy, again temporary workers, in places like Kenya, India and Madagascar, where I've spent considerable time working with local populations.
These are massive ambitions, but I'm very driven by the bigger picture and the long term vision and I want my partners and staff to be too. Too often tech entrepreneurs are driven by the desire to make 'cool stuff', rather than meaningful progress that will create long lasting benefit.
5) What has been your biggest challenge so far with 3Desk?
Life as an entrepreneur is almost always a challenge. It has been glamorized recently, but people should remember it's most often very tough, lonely and comes without much reward. More businesses fail than succeed and many, many dreams and much hard work comes to nothing. Mind you, nothing in this world is permanent anyhow, so certain entrepreneurial journeys are just an acceleration of this… if you'll excuse me for going into 'deep shit' for a second.
However, there is something pure and ultimately more fulfilling about doing your own thing.
My biggest challenge was finding my co-founder, Razvan – he's an absolute superstar. I realized early on that the quality of a co-founding team was possibly THE most important decision I'd likely ever make.
One of the biggest challenges has been trying not to work too hard myself and to enjoy the present without focusing too much on the future. I also write a blog at www.simpletom.co.uk and I feel I have neglected many of my simplicity beliefs in pursuit of my recent ambitions in order to get this business off the ground.
It's not always easy to find the balance. I wonder whether it wouldn't be easier and more pleasurable and possibly even less harmful and more valuable to live life as a monk, or like Thoreau in Walden – simply and in the wild. I hope one day to try to achieve a better balance in my life and to pass that on to my staff and also our users. If more people are freelance, there is a chance that people will have more time and freedom and perhaps my current sacrifice will help that.
Other challenges have included working remotely through one of the worst summers ever and getting people to post their vacancies with 3Desk to give us a try. We feel we've got things working really nicely now, but we need more employers to give it a shot and post roles (for free) with us.
Unfortunately, attention is a scarce resource nowadays. As Jeff Hammerbacher notes "The best minds of my generation are thinking about how to make people click ads," he says. "That sucks."
6) In the coming year, what would you like to achieve with 3Desk?
It's going to be a big year for us. I'd like to get the product – the website – working beautifully and to really blast through the stratosphere with jobs posted. I'd also like to see more development and environmental jobs posted, so we can place people in really meaningful jobs and see people from all over the world post and find work through our site. As I write this, we've suddenly had an influx of thousands and thousands of people from India and beyond. Although there are just two of us at 3Desk, that excites me.
I'd like to start building a fabulous team – we're on the lookout for any developers of Razvan's calibre, so that we scale up more quickly, as well as a couple of other people who are supremely talented.
Also, just in case you think I've been a little too righteous in my answers – I'd also like to be making significant profit, within the year.
7) If you could give one piece of advice to other start ups, what would it be?
As clichéd as it sounds, do what you do for the journey rather than the destination. Good luck!
Feel free to connect with me on LinkedIn or Twitter . See 3desk.com if you have any further questions about 3Desk.
Related articles