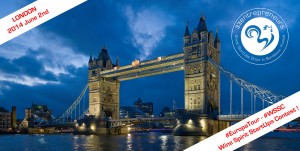 33entrepreneurs' EuropaTour is coming to London, ready to disrupt the wine and spirits industry during London Wine Fair. On Monday June 2nd, 33entrepreneurs will partner with Google to host a startup pitch contest, dedicated to bringing entrepreneurs, tech and wine lovers together.
The evening will comprise of a wine tasting from Domaine Jean-Michel Cazes, the startup pitch contest and conference lead by a panel of industry leaders, including Richard Halstead of Wine Intelligence, Robert McIntosh from Vrazon and of Balderton Captial.
The team with the winning startup pitch, chosen on the night by the panel, will be awarded a free one week in Bordeaux, along with a contribution to travel costs. 33entrepreneurs will host the team and facilitate with press, mentors, and other startups with the purpose of building networks, getting feedback and further developing concepts.
Vincent Pretet, Founder and CEO of 33entrepreneurs, looks forward to fostering local UK talent on the Europe wide startup contest tour.
"33Entrepeneurs is the world's first wine, gastronomy and tourism startup accelerator. Our goal with the EuropaTour is to uncover and reward the most talented teams in Europe, and ask them to work with us in Bordeaux," says Pretet, "Our focus in London, given the timing with the London Wine Fair, is to look for wine focused, tech based startups in particular. We can't wait to see the talent London will deliver, and to then offer them the best of France in Bordeaux."
Teams looking to pitch at the London event can apply via the 33entrepreneurs EuropaTour webpage 33entrepreneurs.fr/europatour.php
Entrepreneurs and wine lovers looking to take part in the action can also register on the webpage for the FREE event including the wine tasting, contest and conference.
For more information about 33entrepreneurs EuropaTour, contact: Sarah Phillips, Head of StartUp Contests sarah@33entrepreneurs.co
+33 6 74 91 62 60