When you are finally in charge of your own business, there is always cause for celebration. If you need an excuse to thank your employees, eat unhealthy foods, or otherwise take a break from your hard work, the following holidays should be reason enough. And a holiday on a Monday or Friday offers your employees a chance to get personal travel in as well.

March 2: Employee Appreciation Day
This could be the most important day of the year. Bosses who fail to recognize their employees on Employee Appreciation Day will be grumbled about for the rest of the year, so you should be sure to bring in breakfast, order lunch, or perform some other gesture of gratitude for your team.
March 14: National Pi Day
National Pie Day occurs on January 23, which means you've already missed it. Fortunately, you can still celebrate National Pi Day – and it wouldn't be inappropriate to pay homage to 3.14159 with some circular pies.
April 21: Tea Day
Undoubtedly, your office runs on coffee. However, long before the roasted bean, workers around the world woke up to steaming leaves. Tea provides more than a caffeine kick; the right herbal blends can soothe your stomach, relax your racing mind, or help you recover from a cold.
April 23: Administrative Professionals Day
Your assistants and administrative staff work as hard as you do, and if they are doing it right, you shouldn't even notice. That means buying gifts for Administrative Professionals Day is especially critical to keep the best admin folks around.
April 26: Take Your Kids to Work Day
What was once exclusively "Take Your Daughter to Work Day" has become more inclusive, so little girls and little boys can see what real-world workplaces are like. It won't be a particularly productive day, but it will be fun to show all the kids what you do and why it matters.
April 30: Honesty Day
This is an excellent opportunity to give and receive honest feedback. Busy leaders can become blind to the wants and needs of their staff, and staff can fall into patterns that cause their work to suffer. Honesty Day doesn't have to be brutal or cruel, but it should reveal shortsightedness around the workplace.
June 1: Donut Day
True, you don't need to wait for Donut Day to enjoy a morning treat, but on Donut Day, you shouldn't feel guilty about enjoying two or three. In addition to the traditional glazed, you should support your local donut shop and pick up some zany flavors, like maple and bacon or cereal milk.
June 22: Take Your Dog to Work Day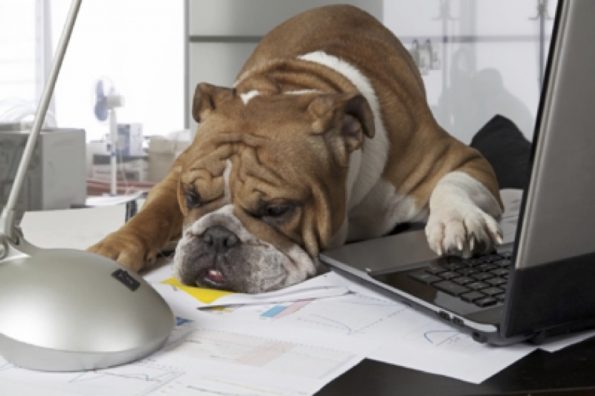 There's nothing quite as exciting and relaxing as having your furry best friend with you all day long. Unlike Take Your Kids to Work Day, your team will still be productive with the doggos and puppers around, but everyone will have a smile on their face thanks to the good boys and good girls in the office.
July 5: Workaholics Day
In every office, there is one or two workers who never take a break, always give 100 percent, and wouldn't enjoy life if they didn't have a job to do. You should be honoring the workaholics at your organization in other ways, such as with promotions and raises, but on Workaholics Day, everyone can appreciate the effort of those select few.
July 25: Christmas in July
Why do you have to wait another six months to break out your Jolly Saint Nick costume? You can wrap a few inexpensive gifts in festive paper, toss them under the office ficus, and spend a few hours listening to holiday jingles in the July heat.
August 1: Professional Engineers Day
Engineers come in all shapes and sizes, so it's likely you have at least one at your company. Today is the day to thank your computer engineer, your material sciences engineer, your project management engineer, or your architectural engineer for his or her hard work.
August 5: Friendship Day
As the great Michael Scott once said: "Make friends first, make sales second, make love third. In no particular order." While a boss isn't always a pal, you should still celebrate the relationships founded around the water cooler with some food and fun on Friendship Day.
September 19: Talk Like a Pirate Day
This is a challenge as much as it is a holiday. People who dress up or decorate should get bonus points, but as long as you keep hearing Arrs and Aye Mateys – followed by laughter, of course – the day should be an all-around win.
October 5: Smile Day
By this time of the year, plenty of workers start feeling blue. As the days get shorter, it's important to remind people to smile. After all, studies show that people who smile more tend to be happier – not the other way around.
October 16: Boss Appreciation Day
As boss, you might not expect to put forth much effort on Boss Appreciation Day – but you should. While you can soak in the thanks and praise, you should be the one to offer food and gifts to your ream. After all, without them, you wouldn't be a boss.
October 21: Day of the Nacho
Few foods are as simple and enjoyable as nachos. With a few bags of tortilla chips, a jar of salsa, and blocks of cheese, you can have a brief fiesta in the office – hopefully not followed by a long siesta. This is definitely a fun holiday to honor.
November 2: Love Your Lawyer Day
No business is safe without trustworthy legal counsel. If you don't have a lawyer on staff -; and few small businesses do – you should at least shoot your attorney a small gift or a big email of gratitude.
November 13: Kindness Day
With the holiday season almost in full swing, a day devoted to kindness isn't unwarranted. To ease everyone's stress levels, you should perform random acts of kindness throughout the day, such as holding the door open or wantonly offering compliments. However, you should be careful to keep your kindness on the right side of creepy.
Be sure to put these days in your personal and your workplace calendars.
Is this article helpful? Feel free to provide comments and feedback.