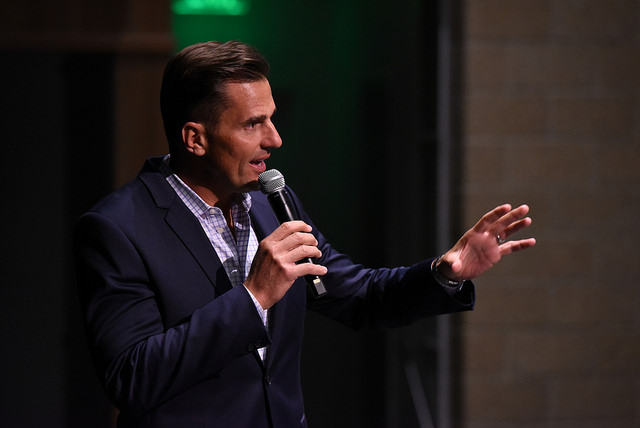 Bill Rancic, renowned entrepreneur, philanthropist, and author, spoke at Benedictine University outside of Chicago and shared the lessons and cautions he learned on his entrepreneurial journey. Rancic is the author of two business advice books, You're Hired: How to Succeed in Business and Life and Beyond the Lemonade Stand and now his first novel, First Light.
From a midwest US, middle class upbringing, he founded and sold a cigar retailing startup and was launched into the limelight with a long-shot win in the first season of the TV series, The Apprentice. He now focuses on restaurant and real estate investing, motivational speaking, and writing.
His lessons cover topics from the traits he feels helped him most in his successes and managerial skills needed to lead a team, to the characteristics of the smart people who helped him as well as sure-to-fail characteristics to avoid.
Traits Leading to Success
Fear is the primary barrier to success and realizing your potential. Almost all fears are learned in life, so they can be overcome with confidence and risk taking. Entrepreneurs should focus on practical execution and take a "show me, don't tell me" approach.
Rancic also attributes his startup success to a couple of key decisions to change his initial business model when conditions changed. Business plans lay out one path, but it is rarely the path you should follow precisely. Without the ability to be agile and adapt along the way, businesses not only can get caught in declining markets, but also cannot seize new opportunities.
Lastly, Rancic addresses the issue of risk in starting and pursuing new ventures. Understanding risk and converting risk into success requires facing the fear of failure and challenging yourself to directly take on the things that you fear the most.
Surround Yourself with Smart People
Rancic was once counseled that you can't play every instrument in the orchestra, and he took that to heart in seeking supporting experts to help build his businesses. He advises entrepreneurs to look for good decision makers and those that find creative ways to market themselves. In addition, surrounding yourself with those with a never-quit mentality is critical and can be even more valuable than just hiring the smartest person in the room. "I never want the smartest person in the room, I want the person that's going to work the hardest."
Focus on a high level of dedication and a strong work ethic when partnering or hiring.
Failure Traps
In his examination of many failed businesses on a TV show he hosted, "We Mean Business", Rancic notes several traits that many failed business owners share, ones that we should avoid. Failed business owners are reactive, not proactive. They get caught up in day-to-day fires but never expand beyond the day-to-day to gain a better view of future opportunities and act to take advantage of them. Further, failed business leaders tend to surround themselves with negative people that can be infectious and cripple your own and your business's growth. Lastly, failed business leaders never see the potential in themselves. They set too many limitations on themselves, and those limitations limit the potential their businesses might otherwise achieve.
Bill Rancic's lessons learned on his journey apply to startup challenges, as well as to other life challenges. Though he admits that entrepreneurship is not for everyone, he remembers looking at the successful people he cleaned boats for as a teenager and thinking, "Why not me?" That confidence and drive translated for him into a path full of challenges and lessons learned, but to a level of success he never truly expected. As a final lesson that all entrepreneurs should remember as they face challenges on their own journeys, Rancic provides a striking truism, "Tough times don't last, tough people do."