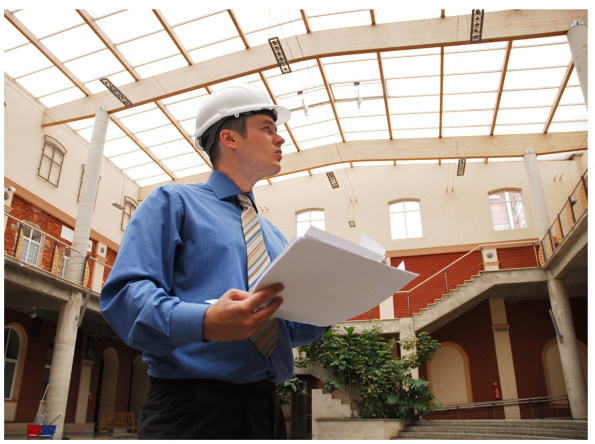 Image Source: http://www.acssmartbuildings.com/public-blog/wp-content/uploads/2015/05/bigstock-A-Construction-Worker-Looking-1931013.jpg
Across Australia, thousands of commercial spaces are leased every day. They include offices, retail stores, warehouses, bars, restaurants, nightclubs, and more. Almost all of them contain access to toilet facilities of some kind and a fully functional plumbing system. This means that, alongside standard checks of electrical and gas appliances, regular plumbing maintenance is also needed. 
This is something that you should think about before you agree to lease any commercial space or property. If you don't make sure that the basic facilities are in good condition first, you could end up taking on a host of existing problems. This is a costly business and can lead to all kinds of disputes and conflicts with the landlord. So, to avoid the trouble altogether, we recommend carrying out a thorough inspection before you put pen to paper and sign a lease.
We've put together this simple guide to the things that you should be looking out for when viewing commercial spaces.
Study, High Functioning Plumbing
If your plan is to set up a business, it is imperative that you start out with healthy plumbing. We advise getting in touch with commercial plumbing professionals in Melbourne to schedule a full service if you do decide to sign a lease. When viewing, inspect visible pipework (especially under sinks) for cracks and signs of wear. If possible, turn on taps and check that the water empties quickly. Slow moving drains are often an indication of blockages within the pipes.
Gas Safety Certificates
It is illegal for a landlord to lease a commercial space without having all gas and electrical appliances professionally tested first. Once approved and judged safe, they are given a special safety certificate. You should ask to see this for proof that the checks have been completed. It is important to be aware of the fact that all gas appliances need to be rechecked once every year and electrical appliances every two years. This is your responsibility for the duration of the lease.
Discoloured Walls or Ceilings
It is quite rare for a landlord to try and get away with letting a damp or mouldy property these days, but it does happen. If the building has recently had a leak, for example, they might try to cover up water damage by painting over discoloured walls. Fortunately, it is much harder to hide that musty odour, so if you do smell anything strange, it is probably best to trust your nose and give it a miss. Keep an eye out for yellowing patches on the walls and on the roof.
Fire and Smoke Alarms
All commercial lets must contain the legally advised number of functioning smoke and fire alarms. The precise amount will depend on how big the space is. Find a commercial plumber that specialises in the preparation of properties for rent and sale, so that they can deal with the installation of fire safety equipment. The vast majority of leases state that it is the responsibility of the landlord to maintain all alarms, but in most cases, this becomes a shared job, because it isn't always convenient for a commercial tenant to wait around for batteries to be replaced.