European Recycling Platform (ERP) has teamed up with Berlin based green economy investor, Green Alley; Germany's leading crowdfunding platform, Seedmatch; and UK "tech for good" accelerator, Bethnal Green Ventures, to launch the first circular economy focused startup competition in Europe. The Green Alley Award, which began in Germany in 2014, recognises startups and young entrepreneurs who contribute to building a circular economy and to improving the waste and recycling industry as we know it today. Under the banner "connecting green ideas from Berlin to London," the partners are searching for innovative products, services or technologies that recycle waste, conserve resources and raise awareness of recycling issues. We talked to Scott Butler of ERP about the challenges of starting a business in the recycling and waste industries.
Scott, you are Regional Director for UK and Ireland at European Recycling Platform (ERP). You work to help producers and retailers effectively recycle their electronic equipment, batteries and packaging. What kind of business opportunities does the recycling industry offer young entrepreneurs?
At first glance, it might not seem very attractive to start a business in this sector. Waste is not a "sexy" topic – but it is one of the greatest challenges around the globe. As we all know, the natural resources on our Earth are limited. Statistics show that in Europe, we currently use 16 tons of material per person per year, six of which become waste. But resources are scarce, and waste piles up endlessly. New ways of handling waste and innovative recycling solutions are among the keys to building a more sustainable lifestyle and a more efficient use of materials and resources. We definitely need promising business ideas in the recycling industry. I believe there are a lot of opportunities for innovation. We only have to find and nurture them.
This year, ERP has partnered with the German green economy investor, Green Alley, to bring the Green Alley Award, a prize for green startups, to the UK. Together, you are searching for the best business ideas in the circular economy. Why is an award like this important?
Giving innovative recycling ideas a forum for growth is a completely new approach. The award really encourages young entrepreneurs to put all their energy into the circular economy. Moreover, the goal of this year's Green Alley Award is to create synergies between Germany and the UK. We will share experiences and help build a long term platform that will support the growth of the startups. In doing so, we can jointly create a European green economy network for startups.
What kind of green ideas are you looking for?
Whether you have a rough business idea or your startup is already growing, the award is open to entrepreneurs and small businesses at any stage of development. The business must, of course, be linked to the issue of waste, and the applicant's idea must solve one of the world's waste-related problems. The ideas we're looking for can relate to how we can avoid waste, use recyclable materials, increase the life cycle of products or simply change the way we deal with waste. To sum it up: anyone who wants to transform waste into a resource should enter the Green Alley Award.
The award is not only geared towards young entrepreneurs from Germany and the UK, but from all across Europe. Why did Green Alley widen its focus this year? 
In 2014, Green Alley experienced first-hand that entrepreneurial flair does not stop at national borders. Some applications from abroad, including RePack from Finland, were really exciting and emphasised that waste is a global challenge. This year, Green Alley wanted to focus on London, and it chose us and Bethnal Green Ventures as partners in the UK. Together, we are looking for great green products, services or technologies across Europe and hope to find many startups with fresh ideas for a green and circular economy.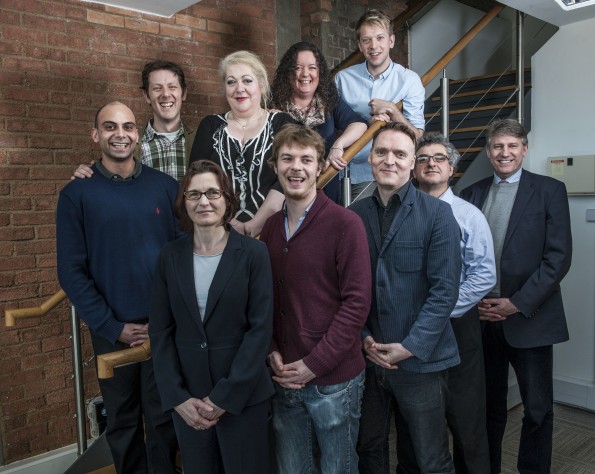 Do you already see many startups entering the circular economy?
In the UK and also in Germany, we're seeing an increasing number of public and private initiatives supporting businesses and startups in the circular economy.
We are very proud that the ideas supported by Green Alley are already making an important contribution to a green and circular economy in Europe. Last year, the Green Alley Award was the first green economy startup prize in Germany. Others have since followed suit, which is encouraging and inspires us to do more! With our special focus on the circular economy, we are still unique in Europe. Based on our experience from last year's award, we know for sure that there are really great ideas out there. It's important for the green economy not to think along national borders, but to focus on European or international solutions.
What challenges might await young entrepreneurs in this sector?
Traditionally, the recycling sector is a very conservative one. Well-established players might have problems thinking outside the box, especially if they've worked in this sector for years. As a young entrepreneur, you might have a fresh take on the industry, but you may have to work much harder to persuade people than you would in other business areas. That is the challenge, but if your idea is good enough, you can definitely succeed. 
The award also aims to bring together startups and experienced companies. What are the benefits for each side?
Being part of the award should be a win-win situation for big players and startups alike. All finalists will take part in workshops with mentors from big international companies and the European startup scene. As a private-sector initiative, we have a large network of experts at our disposal and a lot of contacts with companies and potential customers. For startups, this network is extremely valuable, as it can help to strengthen their business models. Qualifying as a finalist is really beneficial. The overall winner of the Green Alley Award will receive a cash prize, rent-free space in our shared offices in Berlin for six months, and the opportunity for further funding through investment or crowdfunding. The big players and established companies, for their part, get a chance to think outside the box, to feel the spirit of a fresh start, and to get to know young and inspiring entrepreneurs who really want to make a difference in the circular economy.
What is ERP's role in the award?
Together with the other German and UK partners, we will judge all entries and have a seat on the jury that selects the one and only 2015 Green Alley Award winner. During the workshops with the finalists in Berlin, we will mentor the startups, especially those with great ideas for recycling waste from electrical and electronic equipment (EEE), including PV technology, and batteries. 
What is your advice for young entrepreneurs who want to set up a successful business in the recycling sector?
Startups in this sector have special needs, both in terms of funding and learning the dos and don'ts of the recycling and waste industry. They should seek advice from specialists in their field very early on, especially to avoid legal pitfalls as waste regulations may be different in each country. My second tip is to encourage people to enter competitions and startup prize contests like Green Alley. The feedback from professionals, the networking opportunities and, of course, the public attention is priceless and can open more doors. Last but not least, don't get discouraged!