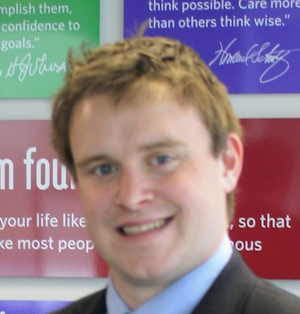 What is your business and what does it do?
The Fordham Foundry is an independent mixed-use incubator focused on creating and growing small businesses. It is the product of a collaboration between the Center for Entrepreneurship at Fordham University and Small Business Services of the City of New York.
We assist promising entrepreneurs in getting their businesses off the ground by providing:
-Collaborative workspace
-Access to funding for qualified early-stage businesses
-Mentoring programs
-Confidential business consultation
-Shared office equipment
-Business education and workshops
-A community of fellow entrepreneurs
At whom is your organization aimed?
This unique partnership between Fordham University and the City of New York marries the aspirations and needs of the Fordham community with those of the Bronx community, resulting in endless opportunities to solidify the Bronx as the next hub of growth and renewal in New York City. Recognizing that great business ideas don't just emerge from business schools, the Foundry is positioned to reach across all schools and departments within Fordham University. Fordham alumni are also strongly encouraged to join for continued access to education, faculty and support if/when they choose to follow an entrepreneurial career path.
Where did the idea for the business come from?
The Fordham Foundry grew out of efforts initiated by professors from the Gabelli School of Business to provide entrepreneurially-minded students with an additional support system beyond the classroom, and to strengthen ties with external partners and constituents in the local community. We have a very community-focused administration, a supportive alumni network, and a talented group of committed faculty/entrepreneurs. It was easy to come to the conclusion that a business incubator was a critical – and necessary – component to the continued success and growth of our entrepreneurship program at Fordham as well as the surrounding neighborhood. It is Fordham's way of giving back to the community to help alleviate high unemployment and to encourage entrepreneurship amongst young people.
What is your background, and what got you interested in startups?
I graduated from Fordham with a major in economics and double minor in philosophy and Latin. After graduating, I completed a volunteer year in Phoenix, Arizona at Brophy Preparatory, and then spent a year playing professional rugby in Australia. 
Upon returning to New York, I accepted a job as a recruiter.  Once I recognized some inefficiencies in how high school and college students are trained for the workforce, I decided to take a leap of faith and found my first startup, Bridge.      
With Bridge, we reversed engineered the skills of a portfolio manager into a simulation to assess the problem solving skills of college students to help them improve and to assist companies in recruiting the right talent.
How did you initially raise funding?
The Foundry is funded by the City of New York, the Gabelli School of Business, and various private and corporate donors.
What has been the Foundry's greatest achievement so far?
Our biggest achievement occurred recently. We gained support from Phil Libin and Evernote to support the Foundry's first hackathon on December 6th.  I am grateful for Evernote and their willingness to support the revitalization of the Bronx though tech innovation.
How have you kept your organization relevant and engaged with your audience over the last two years?
Our member companies and students. They have been the lifeblood of the Foundry the last few years. We are lucky to have some superstars who brought the Foundry to life. I am thankful for our students like seniors Ross Garlick, Sara Kyle, and Christian Jose. I am also grateful for our future leaders like juniors Emily Raleigh, Chase McQuillan, Yancy Carrasco, and Kenny Durkin. The list of names goes on and on.    
How long has the Foundry been open, and who is the team behind the business?
The Foundry was established in 2012 by two professors from Fordham University, Christine Janssen-Selvadurai, PhD and Mitchell Fillet. It is currently managed by Milton J. Sussberg from Fordham University. Professor Sussberg plays a key role in educating entrepreneurially minded students on campus and he is committed to building a world-class, game changing facility.  Jackson Lindauer heads our Community & Strategy. Jackson has trained, consulted, and spoken to over 100 startup teams on implementing customer development at Lean Startup Machine (TechStars '13) and the Compass Fellowship.   
What has been your biggest challenge so far?
My biggest challenge was transitioning into the startup scene. I will never forget showing up to Walsh Library at Fordham with nine pieces of paper and Bridge's strategy written on it. It took me some time to overcome the initial hurdles associated with building a startup. Luckily, I had a great co-founder in Daniel McGrory and he helped me confront those challenges.     
In the coming year, what would you like to achieve?
My goal is to bring Fordham to the forefront of New York City entrepreneurship. Fordham is my home and always will be.  In 2015, I want to unite our community from undergraduates to alumni and use that energy to create economic prosperity in the Bronx. I am proud of my school and it is time we take on a larger leadership role in the digital revolution.    
Also, I have plans to open up a tech hub in the Bronx to complement the Foundry, begin work on my next startup, and write my first book on business incubation.     
What has been your most valuable lesson so far?
Failing.  You have to be willing to crash and burn in order to achieve your goals. Don't be afraid to fail. Embrace the risk and seek the reward.   
Finally, if you could give one piece of advice to someone thinking about starting a business or organization, what would it be?
Focus, discipline, and the right to be there.
It is difficult to start a venture without a unique passion to solve a particular problem. There are so many distractions with the digital revolution, and the fast-paced nature of startup environments can be intimidating as you are always multitasking.  Take a breath and focus.       
There are so many paths to take when starting a new venture that it can be daunting. Stay disciplined to achieve your goals.     
I vividly remember my first investment meeting with a major CEO on Wall Street and a phone call with a billionaire investor.  Immediately after both encounters, there were naysayers explicitly warning me to be careful engaging with these high level professionals. My response was always the same to these naysayers. I have the right to be here. You need that attitude and don't let anyone else tell you otherwise.  You always have the right to be there.