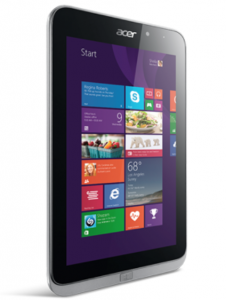 The newAcer Iconia W4 tablet is powered by the Intel Atom processor to take battery life and performance to the next level.
The light, slim device can be taken anywhere and with the Acer Zero Air Gap technology minimises reflections, so you get an incredible crisp and vivid screen experience everywhere, even in sunlight.
The Acer Iconia is great for both work and play on 8.1-inch Display with IPS technology. The Iconia W4 also comes with all the Microsoft Office tools, enabling you to write documents, edit spreadsheets and answer emails on the go.
To find out more about the new Acer see their video:
The Iconia W4 is driven by the latest Intel Atom processor, so videos and games are silky smooth. And you can enjoy browsing the web all day with up to 10 hours of battery life.
The tablet enables you to enjoy a smoother video playback, gaming and web-browsing experience. Whilst the built-in tablet portrait mode provides a pleasant one-page experience whether users are checking apps, browsing the web, reading or even responding to emails and social media posts.
The Acer Iconia W4 tablet is available on sale now, with prices starting at £189.99 (on Amazon) for the lower spec model. From many online retailers including Amazon, Very, ebuyer and many more.
This has been a sponsored post by Acer, if you would like to find out more about sponsoring a post on The Startup magazine, or if you are interested in advertising on the website, visit our advertising store.